What You Need To Know About The UK's Exit From The EU
20 January 2017, 16:42 | Updated: 20 January 2017, 16:43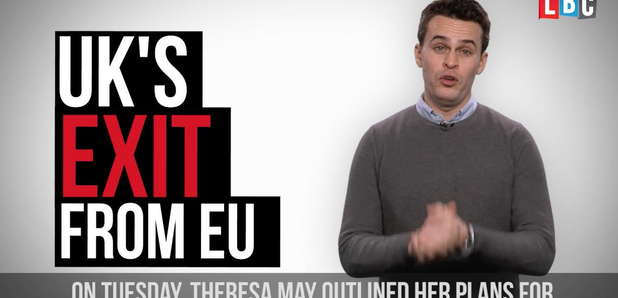 LBC has collaborated with Full Fact to give you a simple run-down of what you need to know about the UK's exit from the EU.
The independent fact-checkers have offered simplified and accurate update on where the Government is with Britain's exit from the EU.
On Tuesday, Theresa May outlined some of her plans for how the Government will negotiate this.
Next week the Supreme Court is set to deliver its verdict on whether MPs and peers will have to vote before Britain officially leaves the EU and triggers Article 50.
The Government has two years from that moment to negotiate a deal with the EU And get parliament to agree to it.
Claire Milne from Full Fact to explained further: "There are four options. First, the government could go back to the EU and ask for more time to negotiate. All other 27 countries in the EU will have to agree.
"The second thing that could happen is that the government could go back to the EU and ask them if we can forget about Brexit altogether. Again, all the other EU countries would need to agree.
"The government says this isn't possible. Legal experts can't agree on whether they're right. There's another court case happening in Dublin this month to try and get an answer.
"Third, the government could do nothing. Nobody knows quite what this would look like but we would be leaving the EU without a deal on things like EU migrants and our outstanding bills to the EU. The way we do business and trade with the EU could also change completely overnight.
"Last, it's been suggested we could have a second referendum on the deal itself. That's one for the political pundits to debate.
"Now, the likelihood is that would need to happen pretty quickly - before we hit the two year deadline."