Sean Spicer Mocks President Trump In Surprise Cameo
18 September 2017, 09:28 | Updated: 18 September 2017, 09:34
Sean Spicer made a surprise appearance at the Emmy Awards ceremony, mocking President Trump.
The former Press Secretary was wheeled on stage behind the famous White House lectern to deliver a version of his famous claims following Trump's inauguration.
Speaking to a stunned crowd at the Microsoft Theater in Los Angeles, he said: "This will be the largest audience to witness the Emmys, period - both in person and around the world."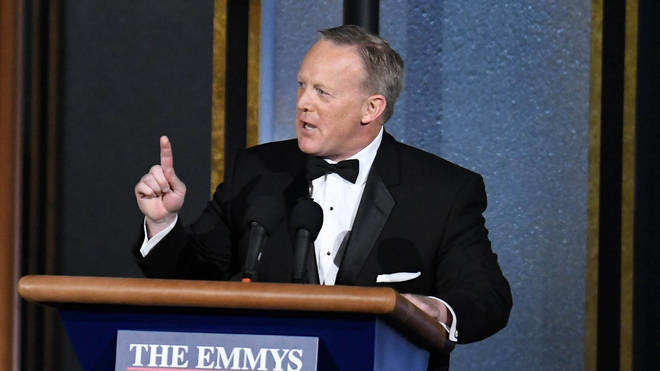 Host Stephen Colbert then joked "Melissa McCarthy everybody. Give it up," referring to the actress who famously impersonated Spicer on Saturday Night Live.
It was one of many digs at the President from the biggest stars of TV.
Alec Baldwin won an award for his portrayal of the President on Saturday Night Live and, referencing Trump's failure to win an Emmy for the Apprentice, said: "Here's your Emmy, Mr President".
Brits Charlie Brooker and Riz Ahmed were among the winners at the awards ceremony.