LBC Asks Jeremy Corbyn: "Is No Deal Better Than A Bad Deal Brexit?"
22 August 2018, 15:38 | Updated: 22 August 2018, 15:42
Jeremy Corbyn says Labour would not accept a no-deal Brexit, but would he choose that over a bad deal? LBC asked the Labour leader just that.
Mr Corbyn is currently on a four-day visit in Scotland, where today he met with refugees in Glasgow.
On Tuesday his shadow minister Barry Gardiner angered Remain MPs in the party after warning a second Brexit referendum could cause "civil disobedience".
Labour's Chuka Umunua told LBC there was no alternative but to have another public vote because a consensus in parliament could not be reached.
But Mr Corbyn played down claims Labour's position on leaving the EU was the same as the Conservatives.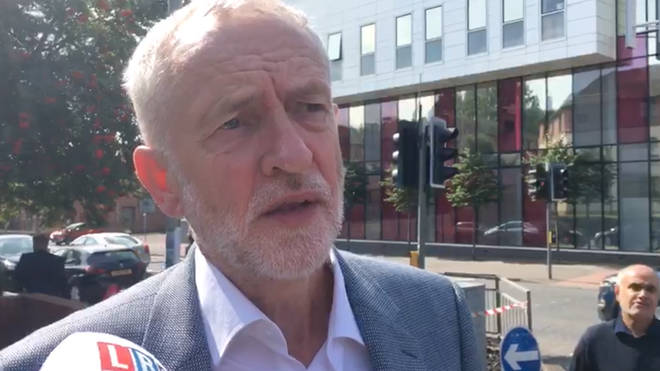 He told LBC on Wednesday: "We are not looking for a no-deal Brexit as many Tory MPs are.
"We are not looking to do a deregulatory sweetheart deal with Donald Trump that would bring us chlorinated chicken and deregulation of our public services.
"We are looking instead for an economy which invests for the future, gives rights that work, consumer rights, environmental protection for everybody in our society."
But, would Mr Corbyn choose a no-deal Brexit over a bad deal Brexit?
Watch above to find out when LBC asked him just that.