Terrified Driver Screams As Man Desperately Clings Onto Moving Car
16 October 2018, 14:23 | Updated: 16 October 2018, 14:26
This is the terrifying moment a man clings onto a car bonnet as its scared driver screams.
A man has been arrested after footage emerged of two women screaming as a man clings onto the bonnet of their moving car.
The clip shows a man holding a cigarette holding onto the car bonnet trying to tell the scared driver to pull over.
The woman, who was on speaking to her dad on bluetooth, continues driving as the man shouts at her.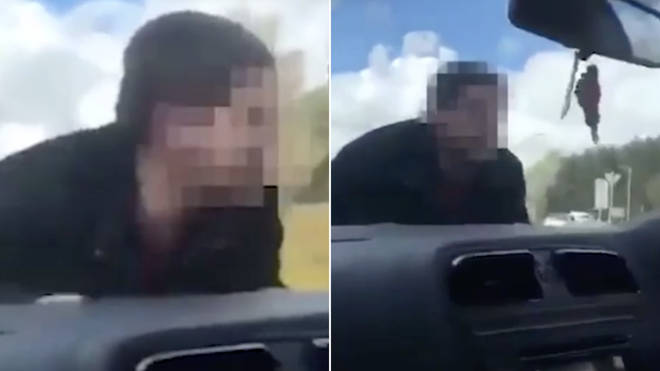 As the car begins to speed up, the man can be seen pulling himself up as he struggled to hold onto the bonnet.
The woman repeatedly screamed "get off my car" as her father listened helplessly on the phone.
A spokesperson for Police Scotland said: "A 36-year-old man has been arrested and charged with an alleged breach of the peace following an incident in Maxwellton Avenue, Calderwood, East Kilbride on Sunday."