Nigel Farage Vs Alex Salmond Over Donald Trump
9 November 2016, 01:10 | Updated: 9 November 2016, 06:36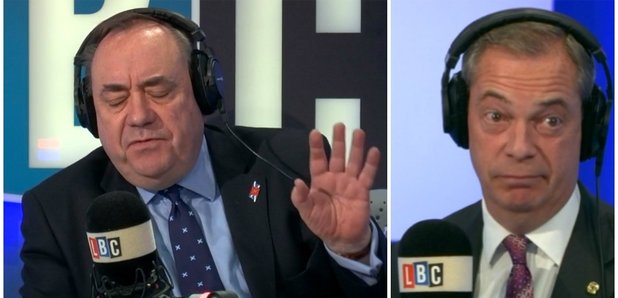 We put Nigel Farage, Alex Salmond, Chuka Umunna and Jacob Rees-Mogg (in a tuxedo) in the LBC studio to talk about Donald Trump and it swiftly became a war of words.
Nigel Farage spoke onstage with Donald Trump just a few weeks ago, a point that the tycoon's outspoken critic Alex Salmond was keen to bring up.
But it was the former Ukip leader who fired the first shot, comparing Trump's supporters to those of the SNP in Scotland.
"Alex Salmond has done it in spades in Scotland - it's about speaking in a language that ordinary people understand," said Farage.
"Fine," replied the SNP man, "But I didn't go around attacking Muslims and Mexicans or demeaning women."
Farage: "No! What you do is encourage people to be nasty to English people. All this virtue signalling, dear dear dear!"