Anti-abortion billboard campaign targeting Stella Creasy removed
30 September 2019, 19:57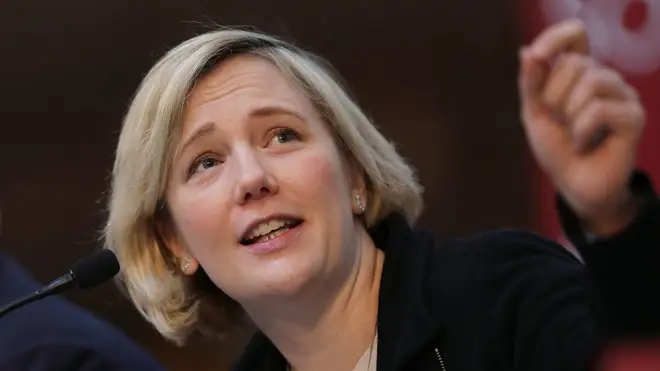 Anti-abortion posters aimed at pregnant Labour MP Stella Creasy have been taken down amid claims they were "harassing" women.
The Walthamstow MP vented her anger at the campaign on Twitter saying she was being targeted by anti-abortion group CBRUK
She suggested the group aimed the adverts at her because of her pro-choice stance on abortion.
Clear Channel, the company that owns the billboards, apologised on social media and said it would remove the images and review its internal processes.
However, Ms Creasy has called on the company to donate money to the charity Abortion Support Network as a way to "redress" the "harassment" caused.
Pro-life group CBRUK told Global's Newsroom the MP wanted to "hide the innocent victim of abortion" by getting the adverts removed.
Andrew Stephenson of CBRUK said: "What was she complaining about? Is it only outside the Westminster bubble that people see how bizarre this is.
"A scientifically accurate image of a 9 week living unborn child (aged from fertilisation) is intimation and harassment? Does that mean sonographers are also guilty of harassment and intimidation?
"Isn't it misogynistic to say that women are incapable of handling the truth?"
They promised to "saturate Walthamstow" with the pictures of the unborn child as part of their #StopStella campaign.
The posters were later painted over following the MPs demands, however she said she would prefer them being taken down altogether.
Ms Creasy asked on social media: "Twitter-can you get me the CEO of @CCUK_Direct advertising? how much did you get for this c**p? @metpoliceuk still think this is just 'free speech' and not harassment of women in walthamstow? Am sorry for the graphic images and @patel4witham am reaching out to you for help now.
Her tweet appealed to Home Secretary Priti Patel to step in and act upon the alleged harassment.
The Walthamstow MP also questioned why companies should "ever advertise" with Clear Channel again given they are willing to promote "such hatred".
Labour councillor Clare Coghill, Leader of Waltham Forest Council, issued her support saying the council stood "shoulder to shoulder in solidarity" with the pregnant politician.
She said: "I defend anyone's right to lawfully protest but when it changes into the targeting of individuals in such a personal way, we must come together to say this isn't acceptable.
"This group was not started in this borough and it does not speak for the people of Waltham Forest."
The Advertising Standards Authority received around 100 complaints about the posters but said they "will not be taking any further action at this point" as Clear Channel had removed the ads.
Clear Channel said: "We apologise for a recent billboard campaign in Walthamstow. We have removed this campaign and are reviewing our internal processes."
CBRUK have been contacted for a comment.