More than 100 'immediate action' flood warnings in place across England and Wales
15 November 2019, 07:03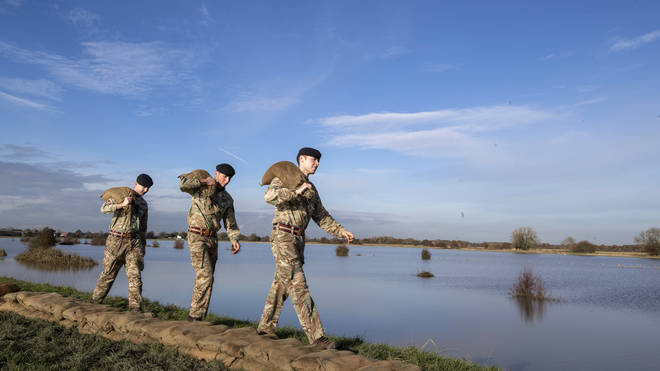 Nearly 150 flood warnings are in place across Britain after a deluge of rain fell in some areas on Thursday night causing flooding and landslides and travel chaos.
Forecasters are suggesting the rains will ease off on Friday, but heavy downpours overnight have increased the number of flood warnings in effect.
Overnight there was chaos on the rails with trains cancelled between Derby and Nottingham due to flooding on the tracks at Draycot, and other East Midlands' services have been disrupted.
Last night, British Transport Police Birmingham tweeted: " @BTP @networkrail and @NetworkRailBHM strongly advise people NOT to travel today unless it's absolutely necessary. Due to adverse weather a vast amount of trains are being cancelled or delayed due to flooding & landslides."
On Friday morning there were 147 flood warning in place, which the Environment Agency say require "immediate action."
There are also 174 flood alerts current, warning people to be prepared for possible flooding.
The warnings and alerts cover most of England and parts of Wales.
A spokesman for the Environment Agency said: "River flooding is expected to continue in the Lower River Don washland area of south Yorkshire through to at least Monday, where properties will continue to flood and there will be continued travel disruption.
"Also, river flooding is probable on Friday for the River Derwent in Derbyshire and the River Trent in Nottinghamshire on Friday. Properties could flood and there could be travel disruption."
Communities in the Midlands and Yorkshire have suffered a week of misery after more than a months worth of rain fell in a very short period of time.
The Environment Agency said since flooding began last Thursday, around 14,400 properties had been protected by flood defences, including 5,000 in South Yorkshire.
Pumps set up around the village of Fishlake have removed 1.25 million tonnes of water in the past 24 hours, reducing water levels from two metres to 0.3 metres, the agency said.
The agency has urged communities to check for flood warnings and follow the advice of emergency services.
The Met Office's Friday morning forecast for the UK is for "rain at times, but not as heavy as recent days".
It has forecast "further rain at times" for Saturday in England and southern Scotland.
Almost 50mm of rain fell near Tal-y-Maes, Wales, in the 24 hours to Thursday evening, and the 49.6mm recorded in Brecknockshire was almost matched by Ross-on-Wye in Herefordshire, which saw 48.8mm over the same period.
The rain arrived alongside cold temperatures in some parts, as parts of the south-west of England did not manage to climb above two degrees on Thursday, but floodwater remains the primary concern.
Meanwhile, emergency services across England warned people to be careful and not drive through deep floodwater as rivers continued to swell.
The leaders of councils in Doncaster, Rotherham, Sheffield, Barnsley, Bassetlaw and Kirklees have written to communities secretary, Robert Jenrick, warning of "considerable and lasting damage" and urging more funding to help them cope with future flooding, the Guardian reported.