SOLD: Bid For Lunch With Katie Hopkins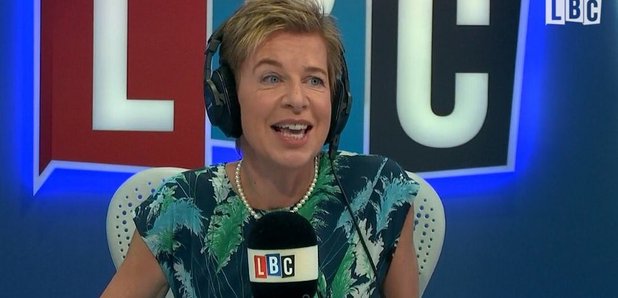 This is your chance to sit down and have lunch with the one and only Katie Hopkins.
Auction sold for 5,099. Thanks for your generosity.
You and your guest will join the LBC presenter for an elegant three-course meal with sommelier-selected wines at Franco's.
Renowned for her honest views, quick wit and unique take on lifestyle and politics, this is your unique chance to spend some time with one of the UK's most outspoken personalities.
This online auction prize will be open for bids at LBC.co.uk between 11.30am on the 2nd of October and 11.30am on the 9th of October. Current highest bids can be found by clicking on the 'bid now' button; availability and full terms & conditions are below.

Global's Make Some Noise is LBC's very own charity, supporting small but brilliant projects across the UK which help youngsters and their families living with illness, disability or lack of opportunity. By supporting Global's Make Some Noise, you'll be helping small projects make a big difference - so thank you. Find out more here.
Thanks to Franco's for kindly donating this prize.

Terms and Conditions

1. Definitions and Introduction
1.1 In these terms and conditions the following words and phrases shall have the following meanings (and, where applicable in these terms and conditions, the singular shall include the plural):
"Auction" The auction running on the Participating Radio Station(s) during the Term
"Auction Terms and Conditions" These terms and conditions relating to the Auction
"Bid Period" The period, as announced on-air and/or online, during which a Participant may bid for a particular item in an Auction through the Auction Line.
"Competition Terms and Conditions" Global Charities competition terms and conditions which can be found at makesomenoise.com/terms-conditions/
eBay User Agreement The terms and conditions of placing a bid on eBay which can be found at http://pages.ebay.co.uk/help/policies/user-agreement.html
"Conditions" The Auction Terms and Conditions together with the Competition Terms and Conditions and the eBay User Agreement
"Global Charities" Global Charities of 30 Leicester Square, London, WC2H 7LA (registered charity 1091657 (England & Wales) and SC041475 (Scotland)) "on-air" Something broadcast on the Participating Radio Station(s)
"Participant" or "you" A person who participates in the Auction "Participating Radio Station(s)" LBC
"Term" The dates and times set out in Clause 2.2 of these Conditions "Website" www.makesomenoise.com or the website of any of the radio stations owned by Global Radio, Communicorpuk or Adventure Radio
1.1 These Auction Terms and Conditions together with the Competition Terms and Conditions (with the specific exception of clauses 2.3 and 2.4 of the Competition Terms and Conditions) and the eBay User Agreement shall apply to the Auction. Participation in any Auction shall be deemed an unconditional acceptance by you of these Conditions.
1.2 In the event that these Auction Terms and Conditions conflict with the Competition Terms and Conditions, the provisions of these Auction Terms and Conditions shall prevail.
1.3 References to "we", "us" and "our" shall be to Global Charities and/or the Participating Radio Station(s).

2. Auction
2.1 During the Term, details relating to the Auction will be broadcast on the Participating Radio Station(s).
2.2 The Bid Period for this auction will take place between 11.30am on 2nd October 2016 and 11.30am on 9th October 2016.
2.3 During the Bid Period each Participant must go online to the Website from which they will be directed to place a bid through eBay.
2.4 Participants are required to have an eBay account in order to place a bid.
2.5 The highest Bid received during the Bid Period will be announced on air to the extent permissible. The highest genuine Bid received from any Participant at the end of the Bid Period will secure the item. Where a Bid is successful, the Participant will be contacted by the Participating Radio Station.
2.6 Full details of all Auctions will be available on the Website including any specific terms & conditions for each lot.
2.7 The offer of an Auction item on-air shall constitute an offer which will be deemed to be accepted by the highest bidder during the Bid Period.
2.8 Participants must be 18 years of age or over. We reserve the right to verify the eligibility of all entrants.

3. Payment and delivery
3.1 Payment for an item must be by Paypal or debit or credit card. The amount to be paid, having been deducted from or charged to the Participant's Paypal account or debit or credit card, shall constitute consideration. All Participants must ensure that, prior to placing a bid, they are able to pay for any item which they wish to bid for.
3.2 Title in the items successfully bid for or purchased shall not pass on to the Participant until such time as payment for the item has been received by the Participating Radio Station and delivery has taken place.
3.3 Delivery of a prize or voucher with the prize details will be made within 28 (twenty eight) days to the address specified by the Participant provided that such address must be within England, Scotland, Wales or Northern Ireland. When an item is delivered, risk of damage to, or loss of, the item passes shall pass to the relevant Participant. We reserve the right to require photo ID from the successful Participant upon delivery.

4. Liability
4.1 All items offered for Auction shall be subject to availability and we shall not be liable for any claims, expenses, costs and/or any losses (including, but not limited to, loss of profits, indirect, pure economic and consequential losses or otherwise) or any damage (save for death or personal injury arising from negligence) suffered by any Participant.
4.2 All matters relating to the Auction shall be at our sole discretion.
4.3 Notwithstanding that a successful bid has been received, in the event that we discover that (i) the Participant was or should have been ineligible to make a bid for an item, or (ii) that the Participant should have been declared invalid for any other reason whatever (at our absolute discretion), we reserve the right to reject the bid. In such circumstances, we reserve the right to offer the prize to the second highest bidder.
5.Prize
- This prize is for two people to join Katie Hopkins and her guest for lunch at Franco's on a mutually agreeable date.
- Availability is likely to be limited during school holidays, public holidays and at weekends.
- This prize must be redeemed before 31st January 2017 and is valid until 7th October 2017.
- Due to the nature of the prize, it may take several weeks to confirm dates in Katie Hopkins's diary.
- Prize winner and guest must both be over the age of 18.
- Severe dietary requirements may lead to changes to the prize, please advise us of any requirements on booking.
- A member of Katie Hopkins' team may also be present at the event. Filming or photography may be carried out for their purposes.
- The Franco's prize aspect is inclusive of a three course meal for four guests (winner plus one and Katie Hopkins plus one with sommelier selected wines; this prize is valid for 12 months.
- The Franco's prize aspect is unavailable to use during the months of November and December in 2016 and June in 2017.
- The content of the prize may be subject to change and/or substituted with a prize of equal or greater value.
- In the event of unforeseen circumstances, we reserve the right to change the date and substitute with another date.
- We require winner name, contact number, postal address & email to facilitate the prize.
- Due to the nature of prize donations, please be aware that it can take several weeks to confirm dates.
- Not for resale and no cash alternative. This is a charity auction and as such no refunds are given.