Bungling Robbers Lose Stolen Cash In Sudden Gust Of Wind
16 April 2018, 13:29 | Updated: 28 October 2019, 15:21
Two bungling thieves have been caught on CCTV losing the cash they'd stolen in a sudden gust of wind.
Police, who released the video, described the pair as "hapless robbers" after they raided a travel agents in Droylsden, Greater Manchester.
They demanded money from staff before stuffing the cash down their trousers on Saturday 17th March 2018.
As they attempted their getaway, a sudden gust of wind saw the stolen loot start blowing away down the street.
One of the thieves attempted to retrieve the cash but ended up leaving the fallen notes behind, police said.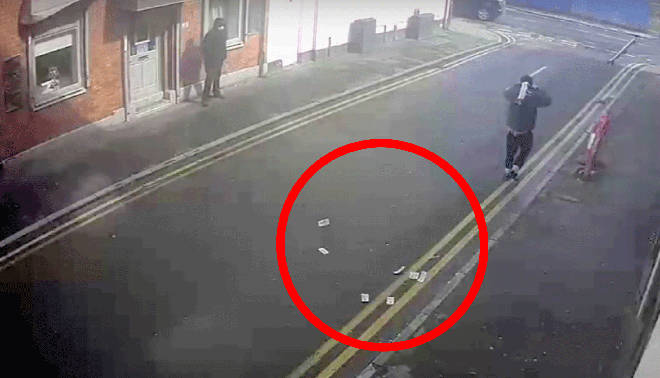 Detectives are now appealing for help to find the two men.
Det Con Phil Scargill of Great Manchester Police said: "This duo threatened innocent people working in the travel agents and should know their actions are utterly unacceptable.
"They took every step to secure the money in the shop, but left the stolen notes in their wake as they fled from the scene.
"I'd urge anyone who saw the two men, or caught sight of them dropping notes as they ran from the travel agents, to please get in touch with police and share what you know."
Watch the failed raid above.