Coronavirus fines in England increase to £100 under new rules
13 May 2020, 06:02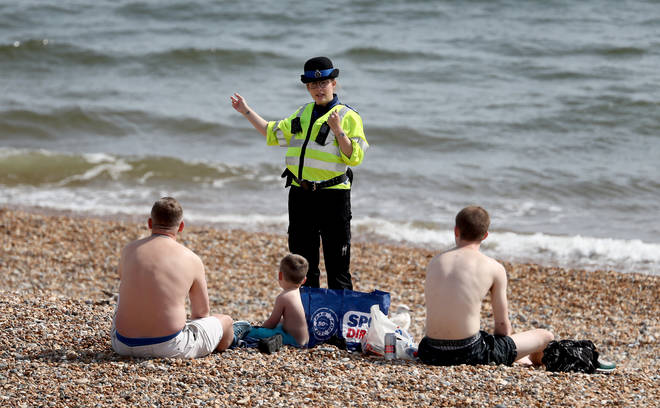 Fines for breaking coronavirus regulations have increased by £40 to £100 per offence for the first offence under the new plans set out by Boris Johnson.
The police are now able to issue increased fines to people violating coronavirus social-distancing rules.
Under the previous guidelines, the police could issue on-the-spot fines of £60 to someone caught breaching the lockdown regulations. But the fines will now rise to £100, while payment of the fine within 14 days will reduce the sum to £50, according to the Home Office.
Fines will double for each repeat offence, up to a maximum of £3,200 for repeat offenders.
Read more: Coronavirus lockdown - What changes has Boris Johnson made to restrictions?
National Police Chiefs' Council chairman Martin Hewitt said officers would "continue to use common sense and discretion" in policing the new rules.
"The efforts of the public mean police officers have rarely had to enforce the Government regulations so far. I am confident the vast majority will continue to do their bit and follow guidance in this next stage.
"We are all now able to spend much more time outdoors and each of us need to take responsibility for doing that within the social restrictions set out by the Government.
"Our approach will continue to use common sense and discretion, and to engage, explain, encourage and, only as a last resort, enforce."
Existing legislation known as the Health Protection (Coronavirus, Restrictions) (England) Regulations 2020 will be updated from Wednesday to reflect the changes coming into force.
"You must obey the rules on social distancing and to enforce those rules we will increase the fines for the small minority who break them," the Prime Minister said in an address to the nation.
Read more: PM urged to launch public inquiry into BAME coronavirus deaths
Under the Health Protection Regulations, people can be fined for being outside without "reasonable excuse".
Listen & subscribe: Global Player | Apple Podcasts | Google Podcasts | Spotify
Read more: New 'stay alert' coronavirus slogan criticised ahead of PM's speech
The news comes as the Government announced people in England would be able to spend more time outside.
Communities Secretary Robert Jenrick added: "Spending time outdoors, exercising or just enjoying the countryside is essential for our physical health and wellbeing. The restrictions have impacted everyone, but particularly those without much living space or a garden.
"We want to make life as healthy, bearable and social as possible, whilst controlling the virus and saving lives. That is why we have worked to find safe ways to enable more people to spend more time outdoors."