Essex lorry deaths: 25-year-old man remanded in custody over 39 deaths
28 October 2019, 05:42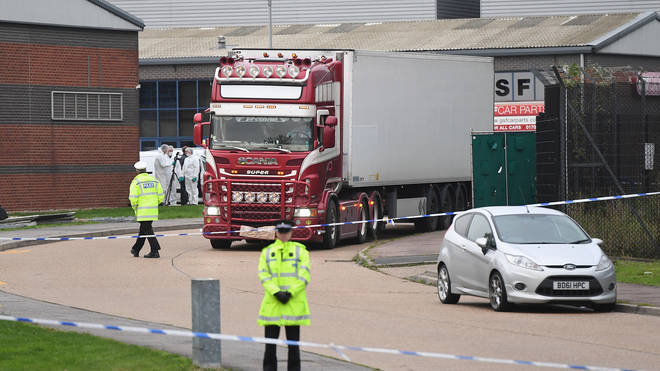 A lorry driver has been remanded in custody after appearing in court charged with the manslaughter of 39 people found dead in a refrigerated trailer in Essex.
25-year-old Maurice 'Mo' Robinson, from County Armagh, was one of four people arrested after police launched a major investigation last week.
Robinson appeared at Chelmsford Magistrates' Court on Monday charged with 39 counts of manslaughter, conspiracy to traffic people, conspiracy to assist unlawful immigration and money laundering.
He was remanded in custody until November 25th where he will appear at the Old Bailey for a directions hearing.
The bodies were discovered in a trailer compartment in the early hours of Wednesday on an industrial estate in Grays, Essex.
Essex Police also confirmed that a man arrested in Dublin by Irish police over an unconnected matter on Saturday "is a person of interest" in their investigation.
A spokesman said: "We are liaising with the Garda via telephone as this man is currently held outside the jurisdiction of the law of England and Wales."
Detectives said a man and woman, both 38, from Warrington, were arrested in Cheshire on Friday and a 46-year-old man from Northern Ireland was arrested at Stansted Airport later the same day.
All three had been questioned on suspicion of manslaughter and conspiracy to traffic people.
The man and woman from Warrington have been released on bail until November 11 while the Northern Ireland man has been bailed until November 13.
Three other people arrested in connection with the deaths have been released on bail, Essex Police said on Sunday.
Police are now working on the largest mass fatality victim identification process in the force's history.
Detectives initially said the victims were Chinese, although a number of Vietnamese families have described how they fear their loved ones are among the dead.
China's foreign ministry has said they hope the UK can quickly identify the 39 victims.
China's assistant foreign minister Chen Xiaodong called on the international community to work together against illegal immigration.
Mr Chen said the case shows that illegal immigration is a global issue.
"It needs to be jointly dealt with and properly resolved by all parties concerned so that we can prevent a tragedy like this from repeating in the future," Mr Chen said.
DNA samples have now been taken from families in Vietnam, who believe relatives are among the victims.
Meanwhile on Monday, Boris Johnson and Home Secretary Priti Patel visited the Thurrock Council offices to sign a book of condolence and lay flowers in the Mulberry Memorial Garden for the 39 victims.
The prime minister said he will "mourn those who lost their lives" and condemned "the callousness of those responsible".
"The whole nation and indeed the world has been shocked by this tragedy and the cruelty of the fate that has been suffered by innocent people who were hoping for a better life in this country," he wrote.
"We mourn those who have lost their lives. Our thoughts are with their families far away.
"In condemning the callousness of those responsible for this crime , we in the government of the United Kingdom resolve to do everything in our power to bring the perpetrators to justice."
In a later statement, Essex Police Chief Constable Ben-Julian Harrington the county had been "shaken" by the "tragic event."
He added: "As we have said this will be a long and complex investigation. We will do everything we can to bring those responsible to justice and would ask for patience while we ensure the identification of those who have died is carried out with dignity."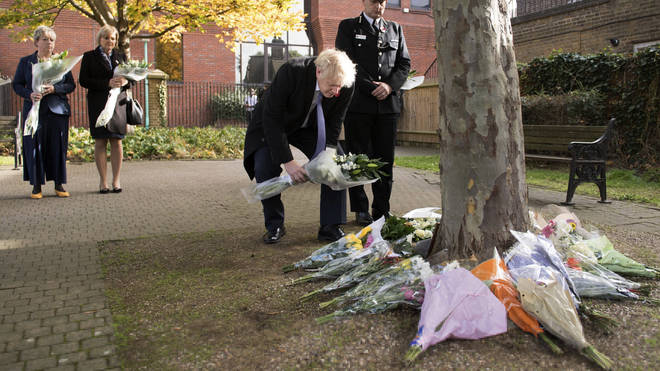 Essex Fire and Crime Commissioner Mr Hirst also said he had been contacted by many people living the area who were "shocked" that such an incident "has happened in our country".
He said the people who contacted him had also expressed "their heartfelt concern for the victims and their families."
"As the investigation proceeds and we learn more about how this tragic event has happened I would ask all of you to remember the individuals involved, the victims and their families," he added.
"We recognise the public concern around the incident and the level of impact it is having on communities and local businesses.
"We thank them for their support at this difficult time. We can assure them everybody is working together to achieve the outcome the victims deserve."