Police Car Attacked By Masked Men With Sledgehammers
29 November 2018, 13:59 | Updated: 28 October 2019, 15:21
A lone police officer came under attack when his windscreen was smashed by two masked men wielding sledgehammers.
Newly released dash-cam from inside the police car captured the dramatic assault which unfolded in Glossop, Derbyshire back in March.
PC Martin Hodnett had tried to stop a vehicle suspected of being involved in a burglary.
But, he soon came under attack when two masked men jumped out and smashed the vehicle we sledgehammers.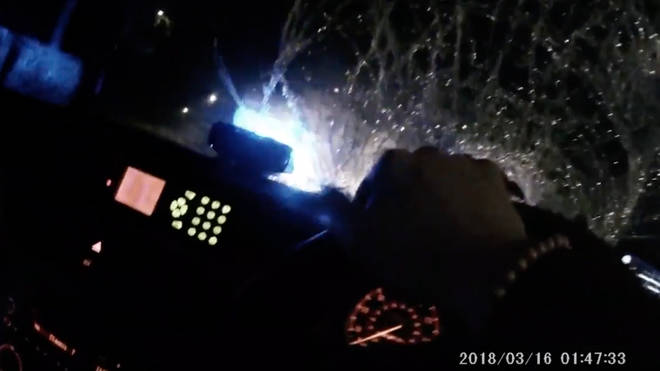 "I just expected them to stop be honest. The next thing they had jumped out and smashed the windscreen," PC Hodnett said.
"My first thought was to let the control room know so that other officers in the area could try and find them – and would know what they might do should they be stopped again."
He has now been commended for his bravery at an awards ceremony last night.
Chief Constable Peter Goodman said: ""On his own, in the face of extreme danger, he acted with utter professionalism. His first thoughts were to ensure that other officers in the area were aware of the danger these criminals posed – the very embodiment of a selfless public servant."