Two Jewish Men Beaten With Belts In Shocking Anti-Semitic Attack In Berlin
19 April 2018, 08:49 | Updated: 19 April 2018, 09:03
Video footage has emerged of two Jewish men being violently assaulted in an apparent anti-Semitic attack in Berlin.
The two men, both wearing a kippah, the traditional Jewish skullcaps, were verbally abused before being whipped by the thug in the central neighbourhood of the German capital.
They stood their ground and threatened to call the police before the assailant was dragged away by his friend.
The JFDA, the Jewish Forum in Germany, tweeted that the assailant can clearly be heard shouting "Yahudi", the Arabic word for Jew.
The incident was captured by one of the victims, Adam Armoush, a 21-year-old Israeli currently living in Berlin.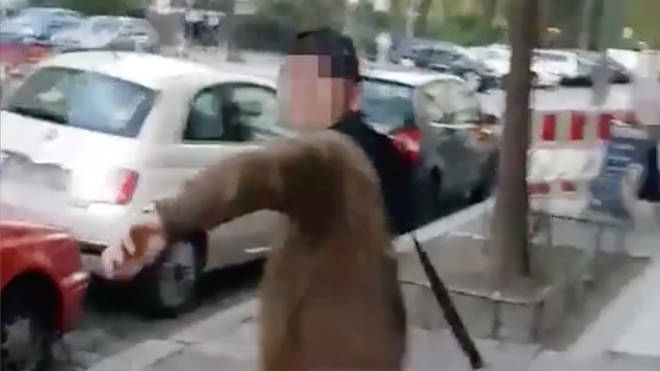 Heiko Maas, the German foreign minister, said of the incident: "It is intolerable for young men to be attacked here just because they are wearing a kippah."
The Mayor of Berlin, Michael Müller added: "Jews must never again feel threatened here. It is our responsibility to protect Jewish life. Anti-Semitism doesn't belong to the Berlin we want to live in."