Nigel Farage Confirms He Will Stand As An MP At Next General Election
13 May 2019, 13:55 | Updated: 13 May 2019, 14:51
Nigel Farage has confirmed he will stand as an MP for the eighth time at the next general election, telling LBC: "It's a duty".
The Brexit Party leader said he would also be prepared to do a deal "with the devil", including a Conservative leader, if it meant Britain left the EU on World Trade Organization (WTO) terms.
Speaking during an exclusive LBC Q&A live stream from Pontefract, West Yorkshire on Monday, he told Theo Usherwood: "I'm going to have to [stand] of course.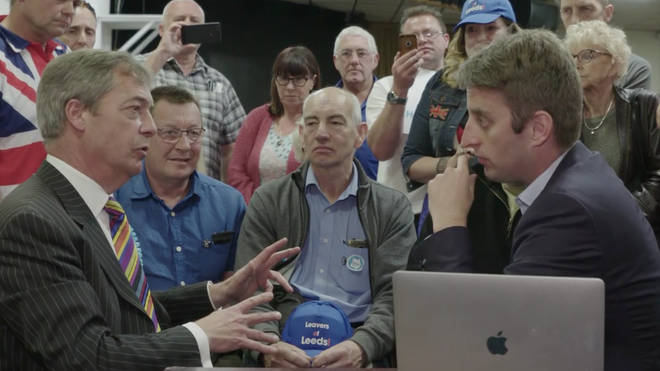 "It's a duty, it's a duty, it's a duty.
"We cannot ever allow again a great democratic exercise like this to be railroaded aside by career politicians of the Labour and Tory parties."
Asked whether he'd be prepared to do a deal with the Conservatives if elected, he continued: "If we can save £39bn, come out of the Customs Union, come out of the Single Market, come out of the jurisdiction of the European Court of Justice and be a genuinely independent, self-governing democracy that can choose its own future, I'd do a deal with the devil to get that."
With just over a week to go until Britain votes in the EU elections, Mr Farage said it was a chance for something "really special" to happen.
"If we win this, we can demand that representatives of the Brexit Party have a say in the next stage of this process, because that would be democracy," he added.