Watch How Moped Thieves Snatch Four Phones In Matter Of Minutes
6 January 2017, 10:49 | Updated: 6 January 2017, 10:50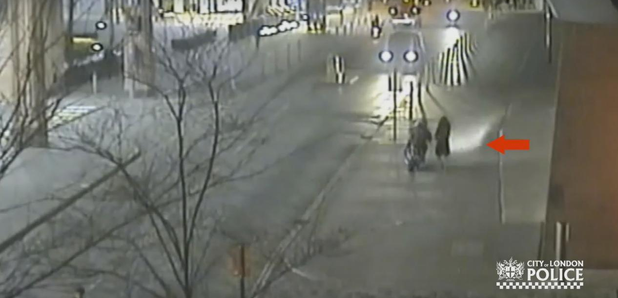 City of London Police have released CCTV of moped thieves snatching four mobile phones from unsuspecting pedestrians.
The footage shows two suspects on a moped snatching a phone from a member of the public at about 6pm on December 29 on Sun Street, EC2.
The thieves then drop it on the floor, allowing the owner to retrieve it.
Seconds later, the bike then turns in the road and successfully snatches a further phone on the same street.
The pair are then seen riding onto neighbouring Primrose Street before unsuccessfully trying to snatch a phone from a woman's hand.
The thieves then cross the road and steal another phone at the junction of Bishopsgate.
Earlier in the evening there were other reports of moped thieves snatching phones from victims' hands in High Holborn and New Fetter Lane.
Two further similar crimes have since been reported in the city on January 3.
At 2pm, two suspects on a moped attempted to steal a phone from a person in Fenchurch Street.
Half an hour later, a member of the public was waiting to cross the road in Lombard Street, when two people on a motorbike grabbed a phone from the pedestrian's hand and sped off.
The City of London Police have issued a warning about 'phone snatchers'.
Detective Constable David Harrigan from the City of London Police said: "Sadly, phone thieves on mopeds do operate within the city and we would urge people to avoid putting their phones on display whenever possible, and to consider using a hands-free device to make a call."