Thief's Trousers Fall Down As He Runs Off With Stolen Hanging Baskets
3 September 2017, 14:08
A thief had a tricky getaway... as his trousers started to fall down as he ran away with some stolen hanging baskets.
The video shows the man, dressed in a grey tracksuit, getting to the front door of the detached house and grabbing the baskets on either side of the front door.
After briefly checking to see that no one has spotted him, the brazen thief is filmed making a run for it - as his bottoms start to slip down his legs.
He then runs towards the woods, with the hanging baskets still in each arm.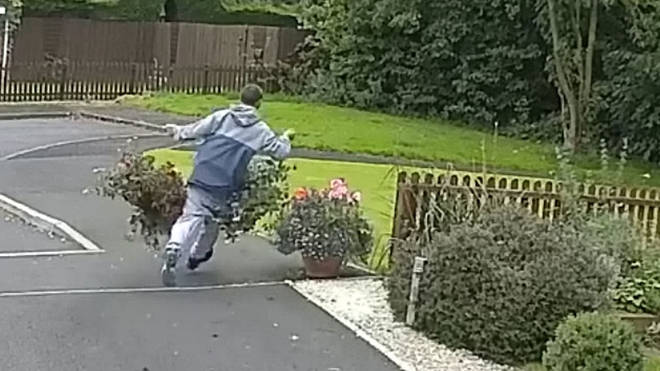 A spokesperson from West Mercia Police said: "Officers are currently making a number of enquiries, including reviewing CCTV, in an attempt to identify and speak to the suspect.
"Anyone with information is asked to call police on 101, quoting incident number 410s of 29 August.
"Alternatively you can contact Crimestoppers anonymously on 0800 555111 or via their website www.crimestoppers-uk.org."