Dashcam Footage Shows Moment Driverless Car Hit And Killed Pedestrian
22 March 2018, 11:15 | Updated: 22 March 2018, 11:16
WARNING: Some people may find this footage upsetting.
The moment a driverless car knocked down and killed a pedestrian has been released by police in the US.
The incident in Arizona marks the first time a pedestrian has been killed by an autonomous vehicle.
Footage released by the police shows Elaine Herzberg crossing the road with her bicycle in front of the self-driving car on an unlit road. The footage stops just before the impact.
There is then a 14-second clip, showing the view of the safety driver inside the vehicle. Rafaela Vasquez appeared to look down on a number of occasions in the moment that led up to the collision and seemed shocked when she saw the pedestrian at the last second.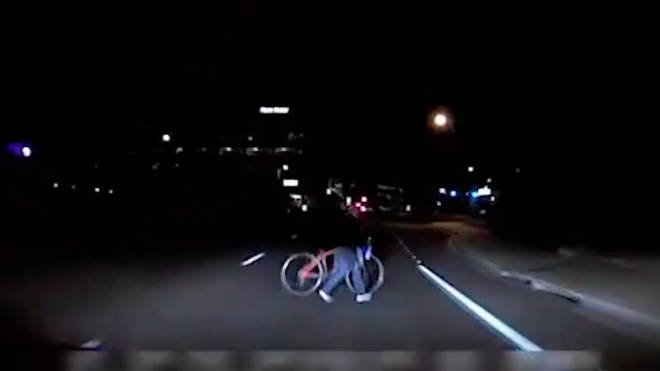 It is unclear why the car didn't react when she walked into its path.
Uber suspended its self-driving programme, but has not commented on what caused the crash.