Motorist Jailed For Smashing Into Mini And Spending It Spinning Across A Motorway
3 July 2018, 13:24 | Updated: 3 July 2018, 13:37
This is the "invaluable" dash-cam footage that sent a motorist for prison, after his Mercedes was caught swerving between traffic and smashing into a Mini on a motorway.
A man has been jailed for dangerous driving after swerving between cars and smashing into a Mini on the motorway.
The incredible footage shows the white Mercedes speeding down the inside lane and undertaking a black 4x4 before cutting across into the far lane.
Travelling at speeds of over 100mph, the Mercedes is seen swerving to the left and smashing into the side of an Mini that was travelling just ahead of a lorry in the inside lane.
The unsuspecting Mini was thrown across the carriageway and into the central reservation, injuring the driver.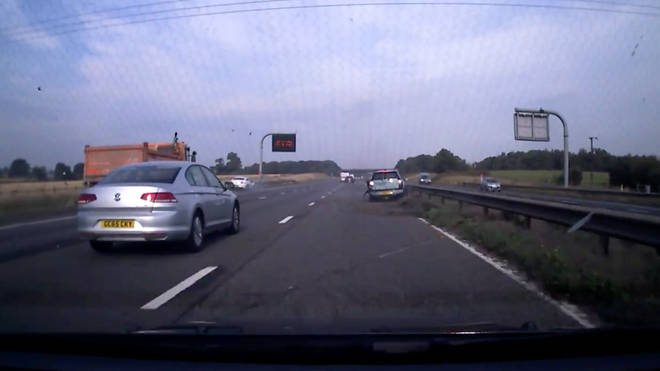 The driver of the Mercedes, Peter Goodfellow, was arrested by police at the scene.
Police say that Mr Goodfellow was found to have two bald tyres on his car at the time of the incident that took place in July 2017.
Mr Goodfellow was sentenced to 11 months in prison for dangerous driving at Swindon Crown Court, and has been disqualified from driving for 29 months.
He will also need to retake his driving test, and pay a £140 fine to the victim.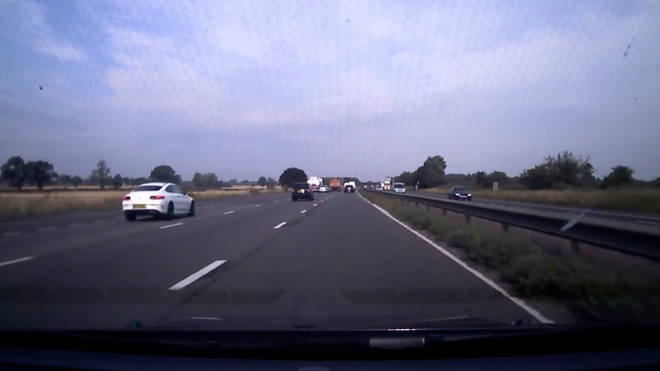 PC Will Ayres, of the Roads Policing Unit, said: "Dash cam footage was invaluable in securing this conviction against Goodfellow. He is a dangerous driver who had no regard for other road users.
"Thankfully, these injuries were minor although the incident has no doubt really affected her.
"Looking at the dash cam footage provided by a witness, it is so lucky that nobody was more seriously injured."