Van Driver Smashes Into Lorry After "Falling Asleep At The Wheel"
14 May 2018, 14:23
Dash-cam footage has captured the moment a van was flipped onto its side after the driver "fell asleep at the wheel" and crashed into a lorry.
The incident was filmed by another driver on a dual carriageway in Northamptonshire on Thursday.
The video shows the white Volkswagen stalling two lanes before smashing into the corner of a nearby lorry.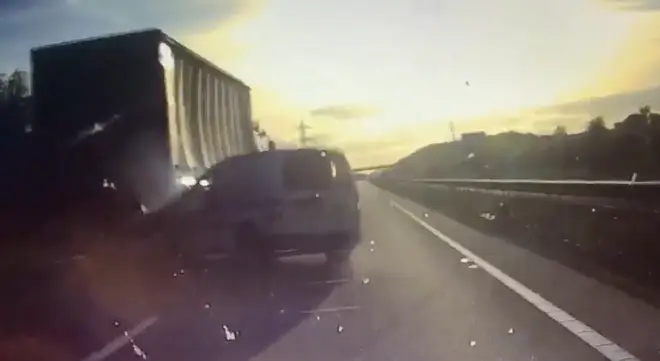 The van was sent skidding across both lanes before hitting the central reservation and rolling onto its side.
Miraculously the van driver suffered only a few cuts.
It was captured by witness Dan Davies, 44, who helped pull the motorist from his vehicle.
"Apart from a few cuts and a bit of shock he was fine," Mr Davies said.
"I was just shocked to watch it happen, you could see something was not right as I approached.
"The guy didn't have a clue when I found him stood up in his van - he just looked like he had woken up from a dream.
"He just fell asleep he said."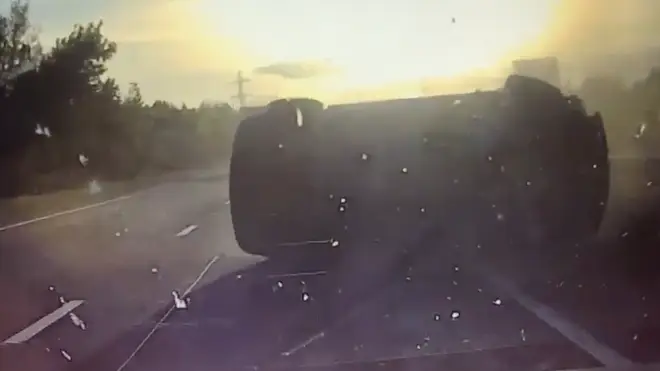 Mr Davies said police and ambulance crews arrived soon after, with the crash causing three-hour tailbacks.
A Northamptonshire Police spokeswoman said: "We were called at 7.15pm on May 10 to a collision between a van and a lorry.
"It was westbound between 2 and 1 near Welford.
"One person was treated for minor injuries."
The force said no arrests were made.