Alan Sugar Believed The Onion Article About Taylor Swift Getting Swastika Tattoo
26 April 2018, 14:14 | Updated: 26 April 2018, 14:48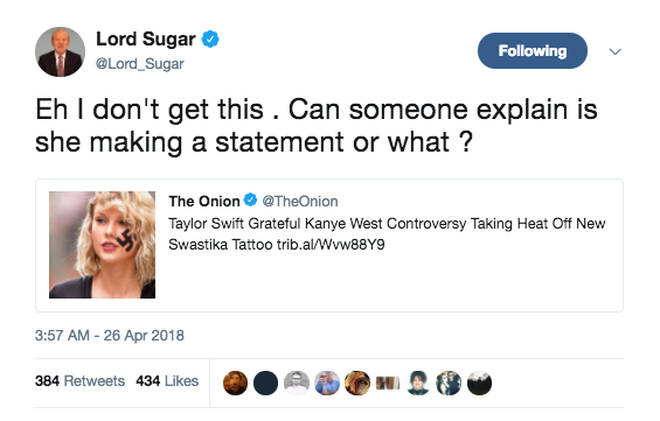 Alan Sugar mistook a joke article on a well-known satirical website for a real headline - and the internet really enjoyed it!
The Onion wrote an article headlined "Taylor Swift Grateful Kanye West Controversy Taking Heat Off New Swastika Tattoo".
The article shows an obviously-fake picture of the pop star with the Nazi symbol tattooed on her face.
The Apprentice star took it at face value and tweeted about how confused he was by why she did it.
He tweeted: "Eh I don't get this . Can someone explain is she making a statement or what ?"
Others Twitter users were quick to make fun of his mistake.
You should have stayed on an Amstrad - this internet thing is a bit too advanced for you

— Uncool Adam (@uncooladam) April 26, 2018
It's not the first time a host from 'The Apprentice' has been fooled by something on the Internet.

— Ned Nederlander (@shrimperbhoy) April 26, 2018