Flood-hit Fishlake preparing for 'year-long' recovery efforts
14 November 2019, 10:44
Flood-hit communities across Yorkshire are pulling together after the region was devastated by floods after a months worth of rain fell in a few hours.
With forecasters warning of further rain on Thursday, and several 'danger to life' weather warnings in place, LBC News has visited some of the areas cut off by rising water levels.
The village of Fishlake was isolated with roads becoming unpassable and those who did not evacuate ended up trapped with very little support.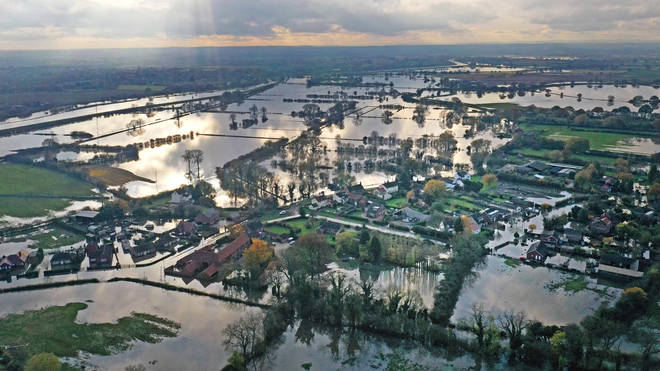 "People are pulling together," Peter the local churchwarden told LBC News.
He said when people came into the church they were concerned there could be more rain and more flooding, but the majority had accepted the situation and were focused on "putting the village back together."
Donations have been ferried across to Fishlake from the nearby village of Stainforth, Peter said around 150 people visited the church on the first day they were open to get food.
Prime Minister Boris Johnson visited Stainforth yesterday where he was challenged by residents on his response time.
At a round table with locals, Mr Johnson was talked into taking supplies to the village in his official 4x4.
LBC News reporter Vicky Smith said she saw cardboard boxes being passed to the Prime Minister when he was in the vehicle.
On Thursday morning our reporter found a box in the church with "Boris brought this" written on it.