More areas of England plunged into Tier 3 as Matt Hancock warns of rising cases
17 December 2020, 11:53 | Updated: 17 December 2020, 15:15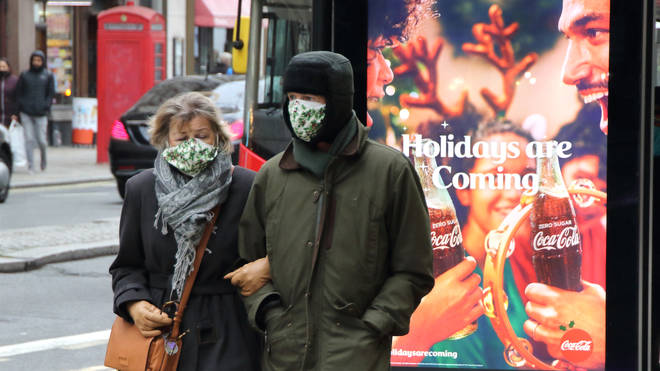 More areas in England will be plunged into Tier 3 Covid-19 restrictions from Saturday as Matt Hancock warned "we've come so far, we mustn't blow it now."
From one minute past midnight on Saturday, Bedfordshire, Buckinghamshire, Berkshire, Peterborough, Surrey (with the exception of Waverley), Hastings and Rother on the Kent border of East Sussex, Portsmouth, Gosport and Havant in Hampshire, will all be in Tier 3.
The Health Secretary also announced that some areas would be moving down a tier, with Bristol and North Somerset moving from Tier 3 to Tier 2 and Herefordshire moving from Tier 2 to Tier 1.
The changes mean: 68% of the population (38 m people) will be living in Tier 3 restrictions, 30% ( 16.8m) in Tier 2 and 2% (1.1m ) will be living in Tier 1.
Making a statement in the Commons, Mr Hancock told MPs: "As we enter the coldest months we must be vigilant and keep this virus under control.
"Yesterday 25,161 cases were reported and there are 18,038 people in hospital with coronavirus in the UK. We must keep suppressing this virus.
"And this isn't just a matter for Government or for this House, it is a matter for every single person and these are always the most difficult months for people's health and for the NHS.
"And especially with the vaccine already here, we must be cautious as we accelerate the vaccine deployment as per The Winter Plan.
"We've come so far, we mustn't blow it now."
Matt Hancock said he "regrets" moving more areas into Tier 3 but that it is "necessary".
He told the Commons: "I regret having to take the action that we have to take.
"I deem it necessary and there is a strong view right across Government that these actions are necessary.
"But I also plead that personal responsibility is absolutely essential to how we as a society should respond to this pandemic."
Health experts had warned the Government not to move areas which are currently in Tier 3 out of those measures "prematurely", and reports suggesting the number of people living under the toughest restrictions could increase.
Greater Manchester mayor Andy Burnham said there was a "clear case" for the region being eased into Tier 2, while the leader of Preston City Council, Cllr Matthew Brown, said he believed Lancashire will stay in Tier 3.
It comes as confusion builds across the UK, with Boris Johnson at odds with Scotland and Wales over festive coronavirus guidance.
Despite pleas from a number of medical experts to scrap the easing of restrictions over the festive period, Mr Johnson insisted "banning" Christmas would be "frankly inhuman".
The Government had wanted a UK-wide approach to Christmas, but Wales will now legislate to restrict mixing to two households - and will go into a tougher lockdown on December 28.
Mr Johnson insisted he did not want to "cancel" Christmas, but said people should prepare for a "smaller, safer" festive period amid fears about the spread of coronavirus.
Confirming the so-called "Christmas window" allowing three households to join together between December 23 and 27 would go ahead, Mr Johnson said people would be left to make individual judgments on whether Christmas celebrations were worth the risk, with warnings to avoid elderly relatives and a recommendation to isolate beforehand.