Your morning news news briefing, Tuesday 12th November
12 November 2019, 06:29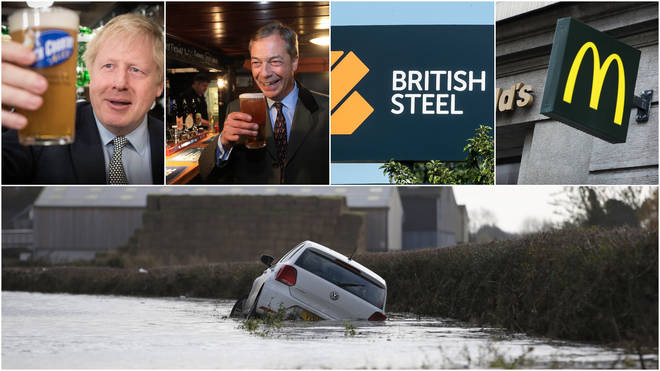 Good morning and here is the latest in UK and world news you're waking up to on Tuesday.
With all of the top stories from yesterday, and a look at the day ahead, it's EJ here with your morning news briefing, the best way to kickstart your Tuesday.
General Election: Farage Takes Centre Stage
When the Brexit Party leader addressed supporters in the key target seat of Hartlepool few could have realised the national media cycle was about to revolve around Nigel Farage's words.
Announcing his party would not contest 317 Conservative-held seats Mr Farage made things much easier for Boris Johnson's Conservative party by ensuring the electoral waters weren't further muddied for Leave voters in those seats.
While the Prime Minister was pleased with the move, some senior Tories were not and urged the Brexit Party leader to also pull out of key Labour marginals worrying another pro-Leave candidate on the ballot could further split the vote.
Deputy Leader of the Liberal Democrats Ed Davey said the move by Farage meant the Conservatives and the" Brexit party are now one and the same."
While Labour suggested it was part of a pact with Boris Johnson and Donald Trump to "sell out our country."
Moving away from Brexit, campaigning will continue today, with Labour taking a trip to the seaside to announce a whole raft of education and skills plans which pledge six years of free learning to every adult as part of a £3bn package of measures designed to help transform the workforce.
Meanwhile, Lib Dem leader Jo Swinson will be out later visiting communities hit by floods in Doncaster, she will also take the opportunity to announce a £5bn fund to help bolster the UK's flood defences after days of flooding chaos.
UK Floods and COBRA
Boris Johnson will chair a meeting of the government's emergency COBRA committee this afternoon to discuss the response to flooding which has hit parts of England.
The rain's finally expected to move southwards later today.
Yesterday saw serious 'risk to life' flood warnings in places in some areas, and transport chaos as rail lines were flooded.
Hundreds of homes have been affected and there are still five severe flood warnings in place for the River Don.
McStrike (Yes, Really)
6 McDonald's restaurants in London will "McStrike" for the day, with McDonald's workers in dozens of towns and cities across the UK following suit.
The strike is taking place on the global day of action for fast food employees called by the International Union of Food Workers, which will see events in countries including France, Belgium, Brazil, Chile and New Zealand.
British Steel Now Owned By China
A Chinese industrial giant has signed a deal to rescue British Steel in a move which is predicted to save up to 4,000 jobs.
Jingye has said it will invest £1.2bn in the business over the next decade.
Another 20,000 roles in the supply chain may also be safeguarded.
And Finally...
Extinction Rebellion is about to take its climate change message to the pop charts, with the release of its first single.
The protest group has joined forces with Lancashire-based rock band the Jade Assembly, aiming to claim a Christmas No.1 with a song that calls for action on climate change, "before we're all dead".
The single, called Time For Change, comes with a video featuring footage from the group's protests around the world in the past six months, with the main focus on London, according to newspaper reports.
That's it, you're up to date. I'll be back at the same time tomorrow, but until then have an amazing day. EJ