Let's stop using self-checkouts to help us crack down on shop theft, writes Johnny Jenkins
30 October 2023, 13:38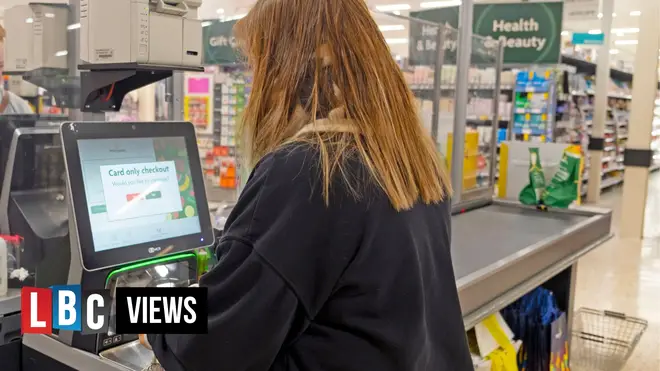 Shopping for groceries has become a pretty stressful and unenjoyable task since the installation of self-checkout tills.
With shop theft on the rise, now is a great opportunity to reimagine how we shop - let's remove self-checkout tills and invest in staff.

Last week, I popped to my local supermarket for a few bits. As I reached the self-checkout till, the problems began.

I scanned the crisps but there was an unexpected item in the bagging area. The staff member comes over, presses in a code and all is back under control.

That's until I start scanning my two decorative pumpkins. The first goes through without any issues. The second won't scan because the barcode is smudged. My new friend - the shop worker - comes over.

Except we aren't friends. She tells me I have to scan in the 12-digit code myself. I huff and puff but get on with the task ahead. Naturally, it doesn't work.

She comes over again and tells me I've missed a digit. "I've done this more than you", she says. I bite my tongue whilst thinking "that's because it's your job, not mine".

The experience hasn't been smooth sailing so far. That's when I look to my left. The man at the self-service till scans one thing. The rest is put straight into his rucksack and pockets. It doesn't take me long to realise I'm watching a shop thief in action.

The security officer has clearly seen him before, but the thief doesn't care. He's not paying for his items and everybody knows that.

In between dealing with my checkout issues, the shop assistant also attempts to stop the thief. He ignores her too, before walking out with his stolen goods.

Shop theft is an epidemic in this country, says John Lewis boss Dame Sharon White. She's not wrong.

I can't help but think that we can learn from my awful experience, all while tackling this crisis.

If we removed all self-checkout areas and invested in more supermarket staff, that would eliminate the most frustrating parts for us all.

Hopefully the retail bosses would also see this as an opportunity to beef up security systems. I'd be happy to walk through a scanner every time I shop and even have my bags checked.

Investment in security could help the companies claw back some of the one billion pounds lost to shop theft over the past year. They'd even have some money left over to pay their staff more, which would hopefully provide a much needed morale boost to our struggling shop workers.

Customer service is on its knees, theft is rife and self-checkout machines are still impossible to use.

Now is the perfect time to change how we shop and make it a pleasant experience again.