Win A Trip to New York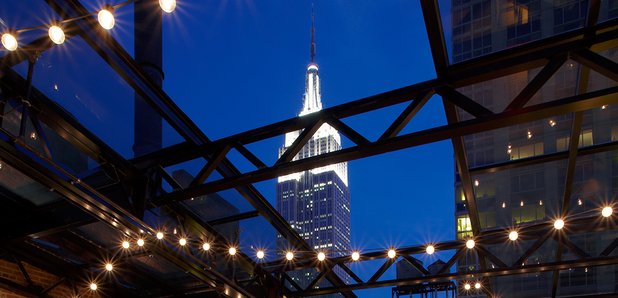 LBC is giving you and one lucky guest the chance to win the trip of a lifetime to New York.
To support our charity and be in with a chance of winning, text the word NYC to 84850.
You'll fly from London Heathrow to Newark Liberty International airport, thanks to United Airlines, where you will begin your Big Apple experience.
You'll spend four nights at the luxury Refinery Hotel located in the trendy New York Fashion District. You can enjoy scenic views of the city that never sleeps from the unforgettable Refinery rooftop lounge.
To make sure you experience the best that New York has to offer, we are giving you two New York Day Passes, giving you free admission to over 80 top NYC attractions, including the Empire State Building which is only a short walk from the hotel.
If all of this wasn't enough, you'll then head to the world renowned Bloomingdale's department store, where you'll be treated to $500 to spend on a one-of-a-kind shopping spree. On one of the nights you can also look forward to dinner at New York's best steakhouse, the world-famous Benjamin Steakhouse.
Entries close at 2pm on 7th October 2016. You must be over 18 to take part. Texts cost your standard network rate, plus once you've entered we'll do the bit that raises the money for all those good causes and will automatically take a donation of £3, unless you reply STOP to the first text message we send you. 100% of these donations will go to Global's Make Some Noise. You're playing across all participating radio stations, which can be found here with full T&Cs below. Global's Make Some Noise is LBC's very own charity, supporting small but brilliant projects across the UK which help youngsters and their families living with illness, disability or lack of opportunity. By supporting Global's Make Some Noise, you'll be helping small projects make a big difference - so thank you! Find out more here. <HYPERLINK TO BRAND.com/charity>
This prize has kindly been donated by United Airlines, The New York Pass, Bloomingdale's, Benjamin's Steakhouse and Refinery Hotel.

The Promoters are Global Radio, registered with Phonepay Plus (ORG832-96388-41101) and Global Charities, registered with Phonepay Plus (ORG831-51159-55647). Service Provider: Global Radio Services Ltd., 30 Leicester Square, London, WC2H 7LA. If you are having problems using our text entry service or feel a donation has been taken from your bill unfairly, please have a look at our FAQs or alternatively contact our customer helpline on 03333 212 196.
Terms and Conditions
Prize Mechanic:
1. The following rules ("Rules") together with Global Charities ("Global Charities") general and competition terms and conditions (the "Terms and Conditions") (which can be found at www.makesomenoise.com/terms-conditions/ ) apply to the 'Global's Make Some Noise Text Competitions' ("the Competition") which will run from 3pm on 8th September 2016 until 2pm on 7th October 2016 ("the Duration").
2. The "Radio Station" advertising the competition is Capital FM, Capital Xtra, Heart FM, Classic FM, Smooth FM, Gold FM, Radio X and LBC.
3. Anyone who enters the Competition (an "Entrant") will be deemed to have understood these Rules along with the Terms and Conditions and will be bound by them. The Terms and Conditions are available on request from Global Charities.
Details of the Competition:
4. To enter the Competition an Entrant must send a text message with the word NYC to one of the Radio Station's shortcodes Capital's 83958,Capital Xtra's 61236, Heart's 82122, Classic FM's 61812, Smooth's 65588, Gold's 81156, Radio X's 83936 and LBC's 84850 (the "Text Message Line"). Text messages will be charged at standard network rate. If you text after the closing time you will not be entered but may still be charged. The Text Message Line will open at 3pm on 8th September 2016 (the "Opening Time") and close at 2pm on 7th October 2016 (the "Closing Time").
5. After entering the Competition, participants will receive a bounceback text message informing them that a voluntary donation to Global's Make Some Noise (registered charity 1091657 (England & Wales) & SC041475 (Scotland)) of £3 will be taken automatically an hour (60 minutes) after the time the first text was received, unless they reply with the word STOP. The £3 donation will be taken from the mobile phone used to enter the Competition and 100% of the donation will go to Global's Make Some Noise.
6. For the avoidance of doubt, you do not need to donate in order to be eligible for entry to the competition. Anyone who replies STOP to the first bounceback message and thereby opts out of donating £3 to Global's Make Some Noise will still be included in the prize draw.
7. After the competition closes on Friday 7th October at 2pm, a random draw will take place of all eligible entries received between the Opening Time and the Closing Time to determine the winner. All winners will be required to talk to the presenter/s and a call will be recorded with the presenter/s and played on-air. If the entrant fails to answer their phone, are driving, or if any fault occurs immediately prior to or during these calls and it is not possible to re-establish contact with the caller, another contestant will be selected at random. The producer's decision is final.
Eligibility:
8. You must be over 18 to enter the Competition.
9. You can enter as many times as you like, however you must text STOP after each entry to opt out of donating £3 to Global's Make Some Noise.
Prize:
10. The prize consists of A four night trip to New York for 2 people staying at the Refinery Hotel New York, a $500 shopping voucher to spend in Bloomingdale's, a $200 voucher for dinner at Benjamin Steakhouse and 2 New York Passes valid for a day
11. No substitute prizes or cash alternatives are available.
12. The prize is non transferable.
Prize:
- The prize includes two return economy flights from London Heathrow to Newark Liberty Airport New York, and two United Club Heathrow lounge passes and all related taxes with United Airlines; four nights stay for two at Refinery Hotel New York, $500 voucher for Bloomingdale's, dinner for two up to the value of $200 at Benjamin Steakhouse and two 1-day New York Passes.
- The prize must be booked before 31st January 2017 and is valid for twelve months from the prize closing date.
- All prize elements must be redeemed at the same time.
-Transportation of Passengers and Baggage on flights operated by United Airlines, Inc. ("United"), Carriers doing business as United Express, and other carriers operating as United's Codeshare partner (collectively "United Carriers"), are subject to the terms and conditions set forth in United's Contract of Carriage, in addition to any terms and conditions printed on or in any ticket, ticket jacket or eticket receipt. By purchasing a ticket or accepting transportation, the passenger agrees to be bound thereby. Incorporated terms may include, but are not limited to:
* Limits on liability for delay, damage or loss of baggage, including fragile or perishable goods.
* Claims restrictions, including time periods within which a passenger must file a claim or bring an action against United.
* United's rights to change terms of the Contract of Carriage.
* Rules on reconfirmation of reservations, check-in times and refusal to carry.
* United Carriers' rights and limits on liability for delay or failure to perform service, including schedule changes, substitution of alternate air carrier or aircraft, and rerouting.
- No additional costs or charges related to travel are included.
-A valid United Club membership card or one-time pass and a government-issued photo ID (such as a driver's license, passport or military ID) are required to enter the United Lounge Club Heathrow.
-Customers must be 18 years of age or older to use a one-time pass. Guests under 18 years of age must be accompanied by someone 18 years of age or older during their United Club visit.
-Guests must be 21 years of age to access a United Club location with a self-service bar, unless accompanied by an adult of at least 21 years of age. A one-time pass admits one person, with no guests, to a United Club location. Exception: children under 2 years of age may accompany someone accessing a United Club location with a one-time pass. A one-time pass cannot be used at an Arrivals facility, Global FirstSM Lounge or Star AllianceTM lounge.
-A one-time pass admits one person, with no guests, to a United Club location. A one-time pass cannot be used at an Arrivals facility, Global FirstSM Lounge or Star AllianceTM lounge.
-United reserves the right to limit access for one-time pass users during high-traffic times when United Club locations are at or near capacity. -United reserves the right to refuse admittance to anyone who interferes with the professional atmosphere of United Club.
-One New York Pass allows one-person full 1-day admission to more than 80 top NYC attractions.
-Winner must have the original copy of gift certificate to redeem dinner for two at Benjamin Steakhouse; does not include tax or gratuity. -Bloomingdale's gift card is to the value of $500 and will be collected at Bloomingdale's New York (at the Visitor Centre). Winner will need to bring ID to collect the gift card.
- The four-night stay for two at Refinery Hotel is in either a Deluxe room or Empire State King on a room only basis. All other meals & incidentals (excluding Wi-Fi & lobby coffee) are to be paid for by the winner. A credit card will be requested for incidentals.
-The four-night stay at Refinery Hotel is based on availability and blackout dates will apply.
- Your stay includes New York City, State and Occupancy taxes.
- The winner is responsible for all expenses and arrangements (transportation to and from the departing and destination airport) not specifically included in the prize.
- Airport transfers in New York and the UK are not included.
- Prize tickets do not include chauffeur-drive, valet parking or rail tickets.
- At least one guest must be over the age of 18.
- Once travel and accommodation have been booked, the prize cannot be amended.
- Whilst we will do all we can to book your trip on your preferred dates, this is not always possible and we ask that you provide three options as soon as possible after the competition and at least four weeks' notice to make a booking.
- More popular holiday periods for the destination get booked up quickly and there are no guarantees we will be able to offer your first choice.
- The winners must ensure that they have the correct travel documentation and obtain the relevant Visas. Such travel documentation is at the sole expense of the winner. Failure to be granted a Visa and or have the necessary travel documentation will result in the winner forfeiting their prize.
- Opening times of the attractions in New York will fluctuate from time to time and users of information are advised to check with the attraction concerned prior to visiting to confirm current operating hours.
- Wheelchair access at some NYC attractions may be limited or unavailable.
- The content of the prize may be subject to change and/or substituted with a prize of equal or greater value.
- In the event of unforeseen circumstances, we reserve the right to change the date and substitute with another date.
- We require winner name, contact number, postal address & email to facilitate the prize.
- Due to the nature of prize donations, please be aware that it can take several weeks to confirm dates.
- Not for resale, not transferable, there is no cash alternative. This is a charity competition and as such no refunds are given.