Andrew Defends Trump State Visit To Fired Up Fleet Street Solicitor
19 February 2017, 08:25 | Updated: 19 February 2017, 11:28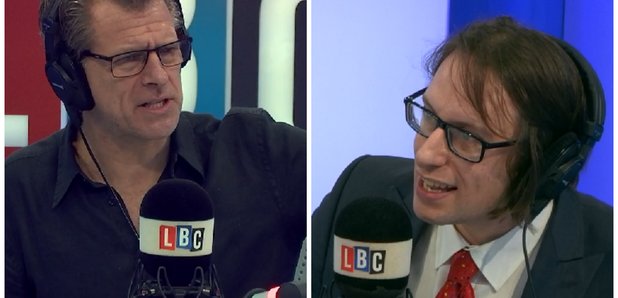 Here Andrew Castle clashes with Joseph Kotrie Monson, of Mary Monson Solicitors on Fleet Street, about Trump in a fiery way.
Tomorrow (Monday) MPs will hold a debate on whether the government should cancel a state visit from the US President.
Here LBC Presenter Andrew Castle defends Trump's visit to the UK in a fiery debate with today's paper reviewer, Joseph Kotrie Monson, Director of Mary Monson Solicitors on Fleet Street.
Joseph said: "We're in a very worrying time. I'm not saying we should be panicking, panicking is the last thing we should be doing Andrew, but we should be very aware, and very vigilant.
"This is not just somebody that we need to say 'OK let's just let him get on with things now and see what he's like', this is a dangerous man."
Andrew then asked him: "State visit, or not?"
Joseph responded: "I'm not going to speak on behalf of parliament or anything else, but state visits, but state visits are a rare thing. They've happened three times in the last 50 years immediately after somebody has been brought in as the President in unusual circumstances.
"What on earth has this man done to deserve it?"
Andrew said: "Well, he has become President of the United States and you've got to respect the office and you've got to understand that, you know, you need to give that office the respect it deserves."
He went on: "We're not the sort of country that can afford, at this point, to say, and I'm not some sort of weedy liberal here, you're not coming here because we don't like you.
"You have to respect the fact that he won the office."
Joseph said: "I think the point is, a state visit immediately after election win to the UK from America by the President is actually a comparatively rare thing.
"The precedent for this is that it doesn't happen very often."
Andrew disagreed. He said: "I'm not buying that. There's 1.8 million people who have signed a petition, stop signing a petition, get on with it, grow up. He is the President of the United States and unless he's impeached between now and then, and some people are betting on that, I think a proper invitation to this guy is the right thing to do."