"Venezuela Is In Crisis Because It Is Not Socialist Enough!"
4 August 2017, 11:21 | Updated: 4 August 2017, 11:28
Venezuela continues to descend into crisis, but the problem is not too much socialism - it's not enough, a leading member of the Socialist Party says.
The Latin American state is in turmoil after its socialist government was granted sweeping powers to overhaul the political system.
Civil unrest and instability has followed the recent disputed poll that was boycotted by the opposition.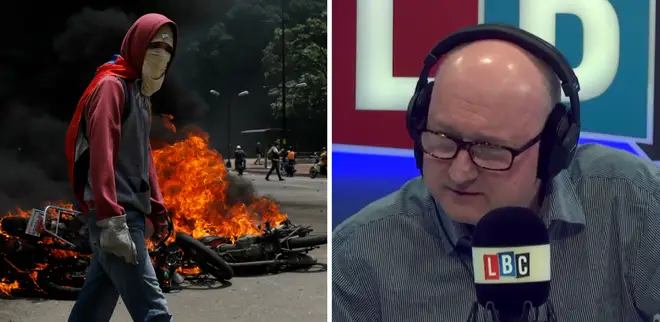 The Foreign Office has withdrawn families of its embassy staff and warned Brits to consider leaving too.
Jeremy Corbyn has come under pressure to break his silence on the violence and personally condemn President Nicolas Maduro.
In the past, the Labour leader expressed support for Venezuela's socialist state, praising Mr Maduro's predecessor Hugo Chavez.
He attended a vigil in 2013 following the death of Mr Chavez, calling him an "inspiration to all of us fighting back against austerity and neo-liberal economics in Europe".
Read more: Labour row over crisis in Venezuela rumbles on
However, speaking to Clive Bull on Thursday evening, Hannah Sell, the deputy general secretary of the Socialist Party, insisted the crisis wasn't down to too much socialism - it was because there simply wasn't enough.
"The very real crisis in Venezuela is being used globally to try and argue that socialism doesn't work," she said.
"The capitalists around the world are threatened by the growing popularity of socialist ideas.
"I think we've seen here in Britain with the Corbyn election result, a growing support for Left and socialist ideas and now there's an attempt to undermine them."
Ms Sell went on to say the Venezuelian crisis was due to the current Government "moving to the right".
She continued: "The policies they're implenting now are moving away from Left and socialist policies.
"They're letting the big corporations that Chavez had pushed out of Venezuela back in.
"They're paying the debt to the global banking system while people are starving on the streets of Venezuela.
"So no, they're not implementing socialist policies."