Read Nigel Farage's Letter To Michel Barnier Requesting A Brexit Meeting
30 October 2017, 19:31 | Updated: 30 October 2017, 20:29
Nigel Farage has written to the EU's chief negotiator requesting a one-to-one meeting to discuss the Brexit negotiations.
The LBC presenter and Ukip MEP penned the letter after Michel Barnier met with British arch-Remainers in Brussels on Monday.
Former Deputy Prime Minster Nick Clegg, Tory MP Ken Clarke and the former Transport Secretary and Andrew Adonis joined Mr Barnier and EU Commissioner Pierre Moscovici.
Officials from the bloc insisted this was part of Mr Barnier's "open door" approach to meetings.
So, Nigel has taken him for his word and requested the pair also get together to talk about the negotiations.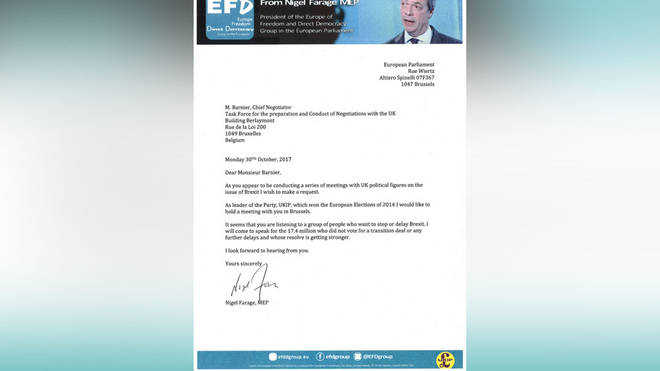 Nigel's letter reads:
"Dear Monsieur Barnier,
As you appear to be conducting a series of meetings with UK political figures on the issue of Brexit I wish to make a request.
As leader of the Party, UKIP, which won the European Elections of 2014 I would like to hold a meeting with you in Brussels.
It seems that you are listening to a group of people who want to stop or delay Brexit. I will come to speak for the 17.4 million who did not vote for a transition deal or any further delays and whose resolve is getting stronger.
I look forward to hearing from you.
Yours sincerely
Nigel Farage, MEP".
... and you can watch Nigel Farage's announcement in full in the video above.