Alex Salmond To Host Weekly Phone-In On LBC
5 January 2016, 15:06 | Updated: 25 August 2016, 18:44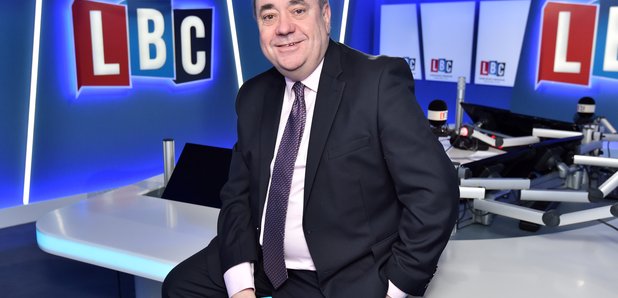 Alex Salmond will host a weekly phone-in show on LBC.
Starting on January 13th, The Alex Salmond Phone-in on LBC will be live every Wednesday from 4pm during Iain Dale's show.
No topic will be off limits as LBC listeners will have the opportunity to call, text, tweet or email the former First Minister of Scotland and leader of the Scottish National Party directly.
Alex Salmond said: "It is a great pleasure to be joining LBC for my first ever radio show.
"When I was First Minister of Scotland, there were times when I had to bite my tongue. However, now unburdened from office, I can shoot straight from the hip.
"I am looking forward to discussing all of the issues and taking calls from every corner of these islands. It's going to be honest, straight talking with a bit of fun thrown in!"
It's the latest programme on LBC where we have let the listeners hold big-name politicians to account. Ask Boris and Phone Farage are already regular phone-ins on LBC, while Call Clegg saw the Deputy Prime Minister answer questions every week for two years until the General Election last year.