Salmond Tells LBC: 'Trump Could Kill Republican Party'
14 January 2016, 13:29 | Updated: 31 August 2016, 12:50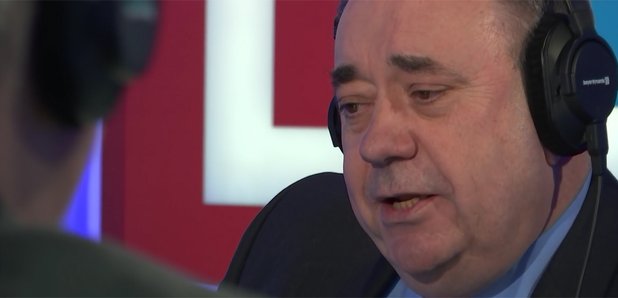 As their war of words escalated today, Alex Salmond told LBC that if Donald Trump is Republican candidate for the White House it could mark the death of that party.
Salmond and Trump have been engaged in a back and forth today, with Salmond firing the latest shot by claiming that the Republicans are doomed if they choose Trump as their presidential candidate.
Salmond told Iain Dale: "While it's true that "The Donald" excites a lot of enthusiasm from a narrow band of people, he excites a deeply opposite and greater reaction from many more, other people."
The SNP man also had some advice for the rest of the world if Trump becomes President: move to the South Pole. Take a listen above to see why Salmond suggested that.
In the Alex Salmond Phone-In on LBC yesterday, the former First Minister said: "Trump's comments about banning all Muslims from America - if anyone else was saying that sort of thing, a preacher or something, he'd be banned from the UK for saying that kind of racist stuff."
You can watch that in full below. Next week, MPs will debate whether Mr Trump should be banned from the UK after hundreds of thousands of people signed a petition.
In a strongly-worded statement today, Trump branded the former First Minister "an embarrassment to Scotland".
"This was the genius who destroyed big sections of the Scottish landscape with ugly, money-sucking, bird-killing industrial windmills, with oil now down at an all-time low and taxes at an all-time high to pay for these monstrosities.
"Additionally, and disgracefully, this is the man who freed, on humane grounds, Abdelbaset al-Megrahi because he wanted to be so kind-hearted to a terrorist who blew up Pan Am Flight 103 over Lockerbie, Scotland, killing 270 people."