Common Ground with Nimco Ali
22 March 2021, 08:50 | Updated: 2 April 2021, 15:51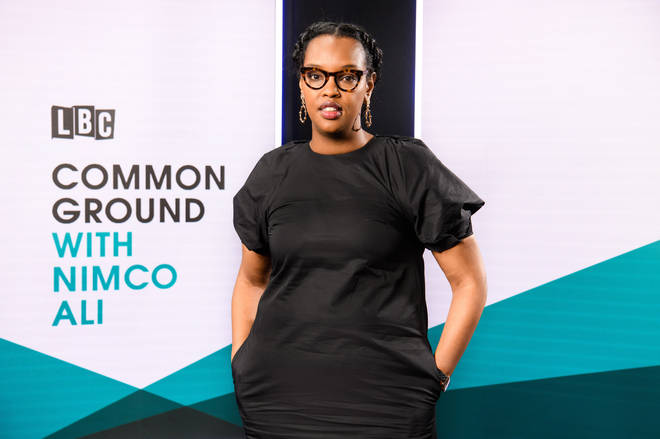 Campaigner and social activist Nimco Ali OBE has joined LBC to host a new 10-part podcast series.
Listen & subscribe: Global Player | Apple Podcasts | Google Podcasts | Spotify
Singer, artist and author Jordan Stephens joins Nimco this week.
Listen as they discuss issues surrounding the race report and what it meant to be a year 7 boy being pressured and bullied by girls.
Also, find out why he thinks politicians aren't engaging enough with 'real people'.
As a survivor of FGM, Ali has dedicated her life and work to end violence against women and girls. Now working as an independent government advisor, Ali is a champion of women's rights, as well as the safety of women and girls which is dominating the current news agenda.
LBC's new podcast, Common Ground with Nimco Ali, sees Ali tackle the difficult conversations that often surround race, religion and gender with some of the UK's best-known politicians, commentators and thought leaders.
The series launched with an in-depth and personal interview with Home Secretary Priti Patel, in which the Home Secretary discusses her childhood and career, as well as violence against women and her own recollection of racism and inequality.
Future guests on Common Ground with Nimco Ali include musician and mental health campaigner Jordan Stephens and writer and comedian David Baddiel.
Listen to LBC's Common Ground with Nimco Ali on Global Player and other podcast outlets.
Global Player is Global's entertainment hub, which allows listeners to enjoy all of Global's radio brands, award-winning podcasts and expertly curated playlists all together and all for free, available on Global Player on your smart speaker, iOS or Android device and online.
Common Ground with Nimco Ali follows the success of LBC's critically acclaimed podcast Hunting Ghislaine with John Sweeney.