Jacob Rees-Mogg Asked: Are You Against People's Vote Because You Know You'll Lose?
1 October 2018, 09:54 | Updated: 1 October 2018, 15:11
A caller to Jacob Rees-Mogg's LBC phone-in asked him if the reason he was so against a People's vote on the Brexit deal was because he knew Leave will lose.
Andrew in Witham put the prominent Brexiteer on the spot during the Ring Rees-Mogg phone in, live from the Conservative Party Conference.
He said: "Is your opposition to a second Brexit referendum more about the fear of losing than it is about democracy?"
But Mr Rees-Mogg hit back strongly, saying: "Not really. I think the idea of a second referendum is perfectly ridiculous, by people who lost and they don't like the fact they lost.
"They think the people who voted to leave are stupid and that we didn't know what we were doing, which is balderdash.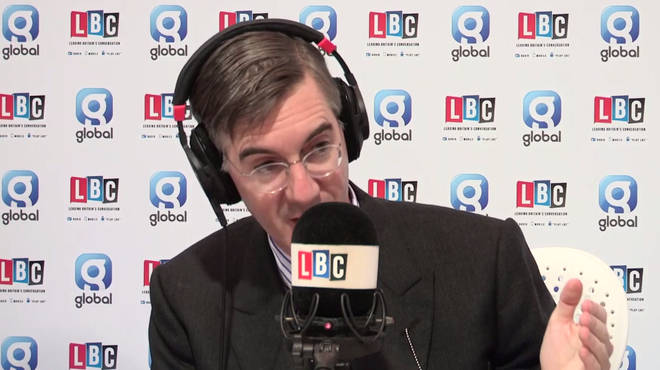 "We've had three votes on leaving the European Union. We had the 2015 General Election, where the party proposing a referendum won - and it's widely believed that referendum promise was a key reason why Ukip voters switched to the Conservatives, giving the Conservatives a majority.
"We then had the biggest democratic exercise in this nation's history, where 17.4million people voted to leave. And then we had a General Election, where the Labour Party said it would respect the result. The party that said it would change it all had a disastrous election.
"The law has been passed. It must be implemented.
"It would be an absolute kick in the teeth for people who voted to leave, to say to them 'We think you did the wrong thing, therefore you have to have another go'.
"That's not democratic, that's condescension."
Asked what he thought the result would be in a second referendum, he said: "I think Leave would win comfortably."