Jacob Rees-Mogg In Virtual Reality: Watch 360-Degree Video
16 April 2018, 08:47 | Updated: 16 April 2018, 15:15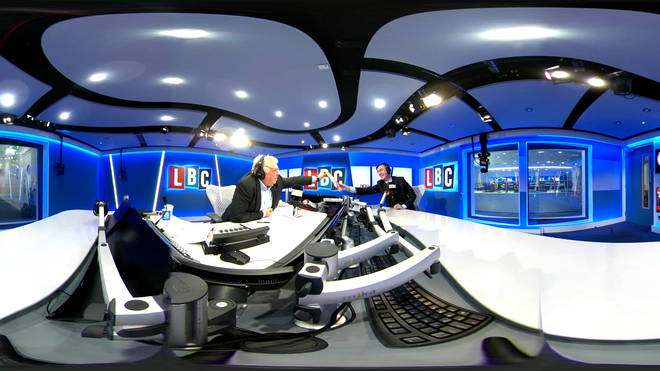 Here's how you can join Jacob Rees-Mogg and Nick Ferrari in the studio in virtual reality.
The best way to experience Jacob Rees-Mogg in virtual reality depends on what device you're watching our video from.
Computer:
From a desktop computer or laptop, click play on the video below.
As the video plays, you can click and drag with your mouse within the video to change the direction of view.
Mobile:
If you want to explore the conversation from a smartphone or tablet, tap here.
After you press play on the video, pick your phone up and move it about to explore the studio.
Alternatively, instead of moving your phone around, you can tap and drag your finger across the video.
VR Headset:
If you have a virtual reality headset, or a Google Cardboard headset, you can find a compatible video by clicking here.
For Google Cardboard, when the video loads, tap on the headset icon in the bottom right corner to activate headset mode.
Place your phone within the headset and strap the headset to your head securely.
After you press play, you can begin to explore the studio as Jacob Rees-Mogg talks to Nick Ferrari.
Remember to make sure the headset is secure and comfortable before moving around.