CCTV: Police Officers Hurt After Interrupting Bungling Ram-Raiders
12 April 2018, 13:13 | Updated: 28 October 2019, 15:21
Bungling ram-raiders used a fork-lift truck to try and steal a cash machine, only to be interrupted by the police part way through.
Dramatic CCTV has been released in a bid to catch the culprits who managed to make off after smashing the windscreen of a police car and injuring police officers.
The men could be seen repeatedly trying to ram the machinery into a Co-op store in Elmton Road, Derbyshire in the early hours of Wednesday.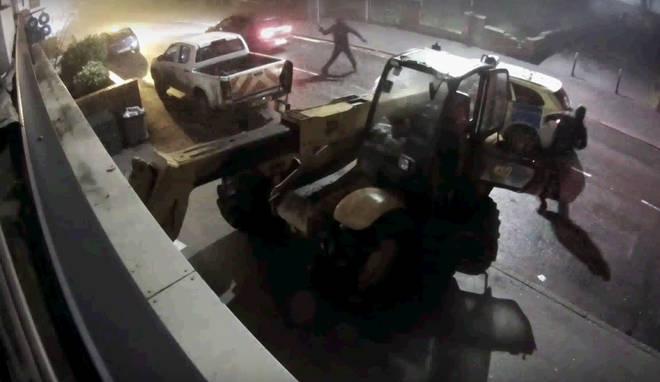 Seconds later, a police car swoops in after being alerted to the area by the shop's alarm.
The offenders smashed the windscreen of the police car before fleeing, leaving officers with cuts to their faces.
Detectives are appealing for witnesses or for anybody who noticed any suspicious activity in the area.
Anybody with information is asked to call DC Craig Chidlow on 101, quoting reference 18*161888.
You can watch the drama unfold at the top of this page.