Europe must consider mandatory vaccines, says EU chief Ursula Von der Leyen
1 December 2021, 19:09 | Updated: 2 December 2021, 01:00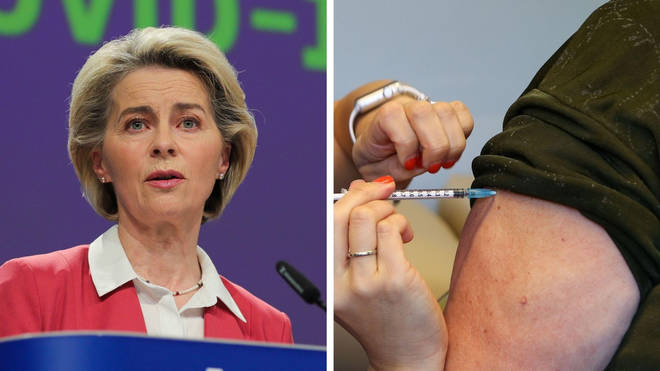 European countries must consider introducing mandatory vaccination programmes, the EU Commission chief has said.
Speaking in Brussels, European Commission President Ursula Von der Leyen said that, although it is up to individual countries, she felt the time had come to "think about" bringing in a mandate.
She explained: "We have the vaccines, the life-saving vaccines, but they are not being used adequately everywhere. And this costs... this is an enormous health cost coming along.
"If you look at the numbers, we have now 77 per cent of the adults in the European Union vaccinated or if you take the whole population, it's 66 per cent. And this means one-third of the European population is not vaccinated. These are 150 million people.
"This is a lot, and not each and every one can be vaccinated – children, for example, or people with special medical conditions – but the vast majority could and therefore, I think it is understandable and appropriate to lead this discussion now.
"How we can encourage and potentially think about mandatory vaccination within the European Union? This needs discussion. This needs a common approach, but it is a discussion that I think has to be met."
It comes amid concerns that Omicron - the latest Covid variant - could evade some protection afforded by existing jabs.
Read more: Omicron cases 'mild' and vaccines still work: WHO official downplays variant fears
Read more: People turned away from appointments in Scotland booster jab "shambles"
She went on to say that the world was in a "race against time" to battle the virus and should "prepare for the worst, hope for the best".
It follows Greece's announcement of monthly fines of 100 euros for all unjabbed over-60s from January 2022.
The country is introducing mandatory vaccines for the elderly after data revealed that more than 520,000 people in the age bracket were yet to get the jab.
Other European countries have also taken steps in the same direction, with Austria announcing plans to make vaccines mandatory for everyone eligible by February.
Incoming German Chancellor Olaf Scholz is also said to be backing the mandate, with an official saying on Tuesday that he hopes to follow suit.