Cyclist Hit By Car Turning Into Police Station, But Who Is In The Wrong?
20 February 2018, 10:55 | Updated: 20 February 2018, 13:52
The moment a cyclist was hit by a car which was turning into a police station has been caught on camera - but the internet is split over who is in the wrong.
A blue Toyota, reported to be driven by an off-duty police officer, stopped and indicated that he was about to turn into the station in Dublin.
However, as he made the move, a cyclist smashed into the passenger door.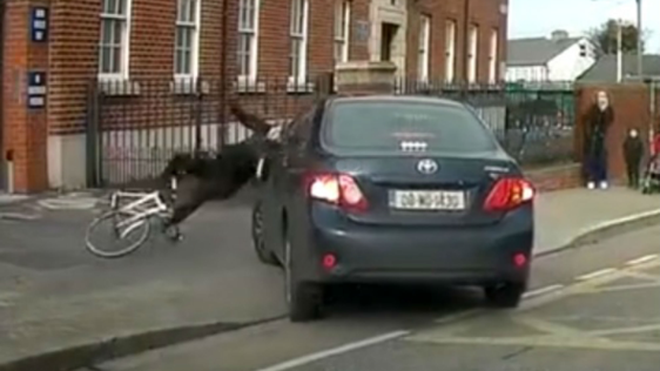 Joey, the driver who captured the incident on his dashcam, told Deadline News: "I spoke to the cyclist after when he was leaving in the ambulance and he seemed a little hurt. It's also a Garda driving the Toyota.
"My take on the accident is that a vehicle wishing to cross a traffic lane, must give way to all traffic in that lane.
"So if a vehicle wishes to cross a cycle lane, they must yield to all bicycles in that lane and wait for the lane to be clear before crossing."
But on social media, people had different views. Kirsty Small wrote: "You should rename the video 'Cyclist doesn't notice indicating car and gets hit'."
William Mostyn commented: "The car has to cross over the bike lane. The bike has right of way. It's the same as with motorways, you have to give way before switching lanes. However, the bike really should have slowed down. You can usually guarantee some motorist won't wait."
However, Richard Cooper had a more unforgiving take: "If you think it's the cyclists fault you're an idiot."