Angry Resident Goes Ballistic At Couple For Parking Outside His House
12 January 2018, 16:14 | Updated: 12 January 2018, 16:26
A couple's dash cam has recorded the moment a resident went ballistic at them for parking outside his house, despite having every right to be there.
Ben Moody, 25, and his girlfriend, Harley Clarke, 21, were threatened and came under verbal attack moments after pulling up outside their friends in Reading.
A man and woman asked the pair whether they had a parking permit.
They explained a friend was about to bring a visitors' pass out, but their response seemed to anger the man.
As Ms Clarke exited the car to get a permit, the irate resident shouts: "I'm gonna wait - I am legally within my right to wait until you get a parking permit."
The woman, who lives in the house Mr Moody is parked outside, then says: "Do you know how much I have to pay a year to park in my own street? £150."
Becoming more worked up as the minutes tick by, the resident then calls Mr Moody a "f****** c***" for not moving.
He then stands in front of the car, taking pictures on his phone before moving out of shot and shouting: "I'm in the right mood for a punch up."
After the road rage altercation Mr Moody posted the video onto his YouTube channel.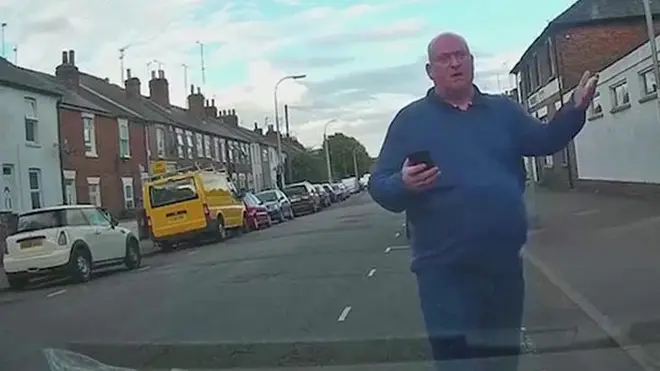 He said: "Harley has problems walking so I always try and get parking close to where ever we are going.
"The first parking spot I found was a little tight so I turned around and went to find another spot, I just so happened to park outside the guys house.
"They pulled up alongside us and the guys got out and shouted at us to move, I kept my cool and my girlfriend went to get a visitors parking permit."
He continued: "I didn't want to move my car at the time as I knew that if the car was moved then he would repeat this again in future.
"After I got out the car and walked away the neighbours on the street had a go at him for shouting at us, once I went into my friend house, the guy and the neighbours were still outside arguing."
Watch the explosive moment above.