Car Smashes Into Lorry As It Tries To Exit Roundabout - But Who's At Fault?
20 April 2018, 16:30
Dashcam footage shows a car crashing into the side of a lorry as it tried to exit a roundabout - but who is in the wrong?
The clip of a black car hitting the HGV on the A57, connecting Lincolnshire to Liverpool, has divided opinion.
It begins with the two vehicles approaching the junction, the lorry is in the left lane and the car in the right.
As the pair continue on the roundabout, the HGV carries on going straight over while the car tries to turn left.
The vehicle then crashes into the lorry, which is left stranded on a grass ridge.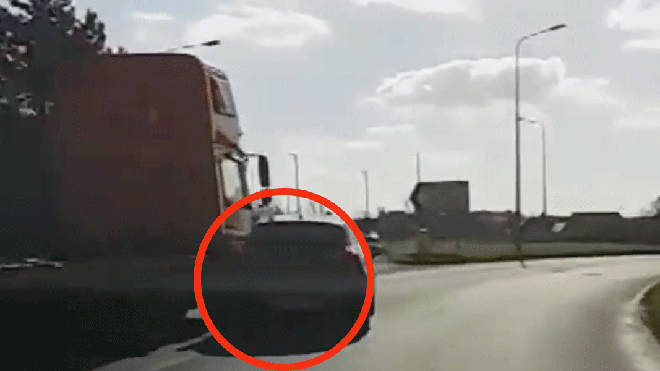 The video has left Facebook viewers split on who they think is at fault.
One wrote: "Car at fault, you clearly get taught in your driving test to stay well back when HGV, LGV are approaching a junction, bend or roundabout because they require all the room to move."
Another said: "HGV's fault, but the driver of the car could have possibly avoided the crash by giving the HGV plenty of room around the roundabout."
Watch above and see whose side you're on.