The Heart-Stopping Moment Driver Saves Child Who Cycles In Front Of His Car
6 August 2018, 15:21
This is the dramatic moment a skilled driver slammed on the brakes to avoid a child who cycled right in front of his vehicle.
Robert Allen is a fire officer with the Hereford and Worcester Fire & Rescue Service and only managed to avoid the boy as he was driving under the speed limit and had passed the advanced driving exam.
The video shows Mr Allen driving on the A38 near Bromsgrove in Worcestershire when a child cyclist crossed the road without stopping to check it was safe.
He managed to slam on the brakes quickly enough to avoid the child.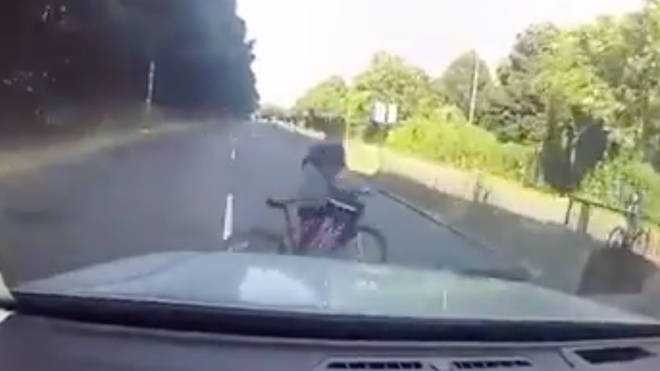 Writing on Twitter, Mr Allen said: "I wasn't sure whether to post this but if it stops a child from being killed on the road it's worth it!
"Today a child rode out in front of me, across the dual track, without looking. Thankfully I was driving under the speed limit & reacted quickly!
"I saw the first kids so dropped back by 5mph to 49mph (it's a 60), if I hadn't I'd have hit him!
"He came straight out from behind the wall to the left. I've seen drivers on phones and doing way over speed limit through there, just imagine..."
Speaking afterwards, Mr Allen wanted to warn children to be safe on their bikes, adding: "It's currently perfect summer holiday weather for kids to be enjoying being out an about on their bikes – but I shared this video to reinforce the messages about staying safe and being vigilant while cycling on main roads, and also wearing a cycling helmet.
"There is no intention to name and shame the boy – just to use the incident as a warning that a moment of concentration can ensure an incident-free summer holiday."