Imam Slated By Cameron Reveals Tory Links
20 April 2016, 15:29 | Updated: 25 August 2016, 16:23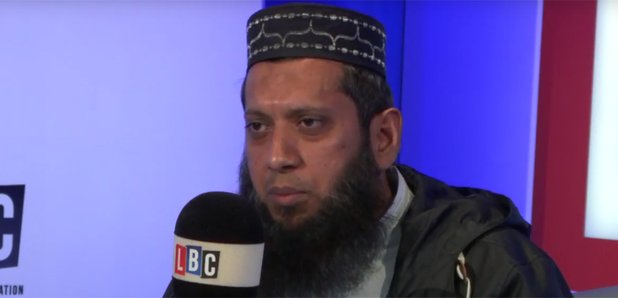 Tooting Imam Suliman Gani has insisted in an LBC exclusive interview that he is not an "extremist" - despite the Prime Minister's claims.
Earlier today, David Cameron questioned London mayoral candidate Sadiq Khan's links to Gani - saying the Labour MP had shared a platform with Ghani "again and again and again".
Khan said he was disappointed in the Prime Minister's comments and in an LBC exclusive, Gani told Theo Usherwood:
"I've never ever promoted hatred, I've never promoted violence, I've never promoted terrorism.
"Generally I find myself holding the same views as many of the people from other faiths, other denominations."
He added that he was "used as a scapegoat to discredit Sadiq Khan."
Gani told Theo Usherwood that in fact, he had been an activist for the Conservatives and even met with Zac Goldsmith at the Conservative Muslim Forum in 2015.
He was invited "to encourage Muslims to become councillors...so I did meet Zac Goldsmith and even shook his hand.
"I said I would like to have a meeting, enage with you. He was very polite and said I should send him an email."
After Theo's report, Chuka Umunna joined Iain Dale on LBC and the Labour MP accused David Cameron of being "deliberately Islamophobic.
"They are strategically and cynically doing this because Zac [Goldsmith] has run a low energy, uninspiring campaign to date.
"What are they seeking to do? What was the Prime Minister seeking to do today? He's deliberately seeking to move away from the issues that are at the core of the London mayoral campaign to Sadiq's religion.
"When you see Islamophobia...being seemingly endorsed by the Prime Minister, you've got to call it out. You've got to call it out!"