Worried Mum Tells Sadiq Khan "Londoners Don't Feel Safe Anymore" Amid Crime Spike
28 June 2018, 21:58 | Updated: 29 June 2018, 11:57
A worried mother was given a round of applause as she grilled Sadiq Khan over the rise in violent crime across London.
More than 80 murder investigations have been launched across London since the start of this year.
The most recent saw a 15-year-old boy killed outside a community centre in Romford on Saturday evening.
And knife crime featured prominently as the Mayor of London took questions from the public at the State of London Debate 2018.
"There are no bobbies on our street, Londoners don't feel safe, our communities don't feel safe," the unnamed woman boomed to the delight of the crowd.
"You give me statistics Mr Khan, but for me as a parent, I'm telling you, we do not feel safe.
"We do not feel safe in London and we want you to do something about it!"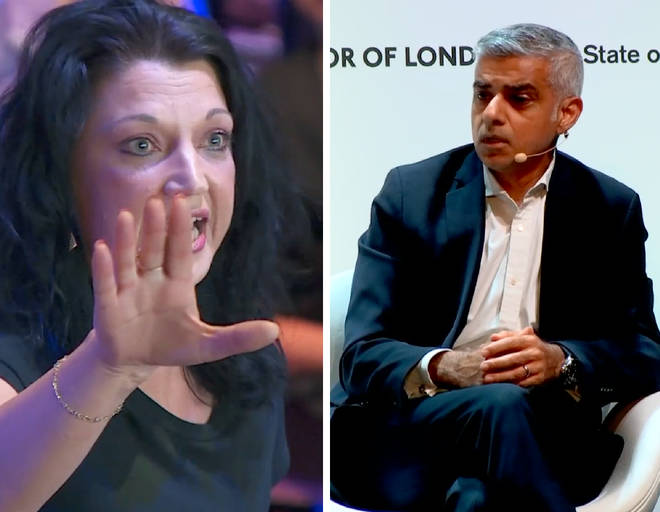 Responding to the concerns, the Labour Mayor replied: "We have raised council tax to the maximum the laws allowed us plus used business rates to help the police.
"So 140-million pounds over the last two years - the most they've received from a Mayor ever over two years.
"But the problem is it's 140-million pounds when [the government] has taken away 720-million pounds."
He finished: "It is the case we have the most anti-London government we've ever had in history, and I'm afraid Londoners are paying the price."
Meanwhile, the 90-minute debate was temporarily halted as pro-Tommy Robinson activists heckled the Mayor.
Security guards had to escort the demstrators out of the indigo O2 venue in North Greenwhich.
They shouted "disgrace" and chanted as Mr Khan gave his opening statement to the audience.
You can watch the debate in full here.