Tube Chat Badges Divide London Commuters
29 September 2016, 18:05 | Updated: 29 September 2016, 18:28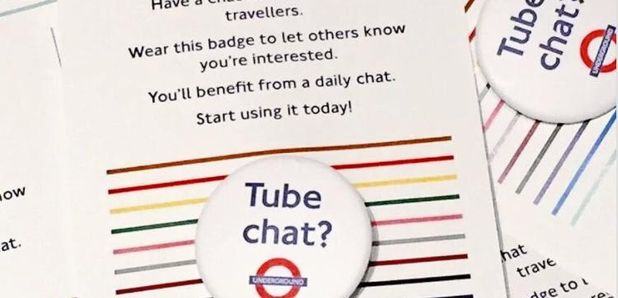 Badges designed to provoke conversation on the tube caused controversy amongst commuters today, LBC heard.
The badges, imitating the 'Baby on Board' badges used to let people know when to give up their seat for expectant mothers, aimed to get people to talk to one another with the words 'Tube Chat?'.
"Most people don't want to talk to anyone," said Jonathan Dunne, the American campaigner behind the badges, when speaking to LBC's Shelagh Fogarty this afternoon. "By wearing the badge, you're telling other people you'd like to speak. Though I wouldn't encourage anyone to annoy other people."
Londoners hate the idea of #tube_chat: badges suggesting they talk to strangers. What is wrong with them? https://t.co/jt4yHJRHEv

— LBC (@LBC) September 29, 2016
LBC's reporter Rachael Venables boarded the underground at Leicester Square, one of London's busiest stations, to gauge gut reactions to the initiative: "To be honest with you, most people on the tube are miserable - if it could create some kind of conversation that would be fab," one commuter told her.
"Commuting into the city, I notice that stern face everyone puts on," said another. "It would be nice to break that up a bit."

But some were less taken by the idea: "I think I'd be too tired in the morning to use it," or simply felt it unnecessary: "Why do you need a badge? Why can't you just talk?"

Others took to Twitter on hashtag #tube_chat to express their views:
Sums it up for me. #tube_chat pic.twitter.com/or3gb6JJRG

— (null) (@pewpy) September 29, 2016
Transport for London says it's not responsible for the badges being offered to Tube passengers showing you'd be happy to chat to strangers. The badges they currently produce are the 'Baby on Board' badge for expectant mothers and a new trial badge for those with hidden disabilities.