WATCH: Hundreds Of Londoners Queue For In 'N' Out Burger
21 September 2016, 18:47 | Updated: 22 September 2016, 12:24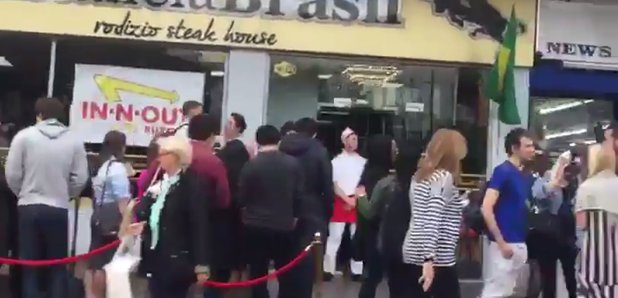 An American burger chain's Swiss Cottage pop-up brought queues for miles and offers of more than £100 for a burger to London yesterday morning.
In 'n' Out Burger is massively popular in the USA but this was the first time they've come to the UK, running a pop-up eatery from 11am-3pm.
@LBC no shortage of meat eaters in london!! pic.twitter.com/rGJPSPFCHq

— jason marc shifrin (@jasonshifrin) September 21, 2016
Queues started building at 8am, with approximately 400 people reportedly waiting for hours to try the burgers - as you can see in the video above. It's reported that people skipped the line to offer £100 to people "lucky" enough to be at the front.
At 12pm, In 'n' Out started turning people away - but the chain has said they're looking at a proper opening in the UK. Their statement read: "We do not have any immediate plans to open permanent restaurants there, but these special events will help us make future decisions.