UK and US both impose sanctions after Putin given green light to use force outside Russia
22 February 2022, 07:39 | Updated: 22 February 2022, 20:05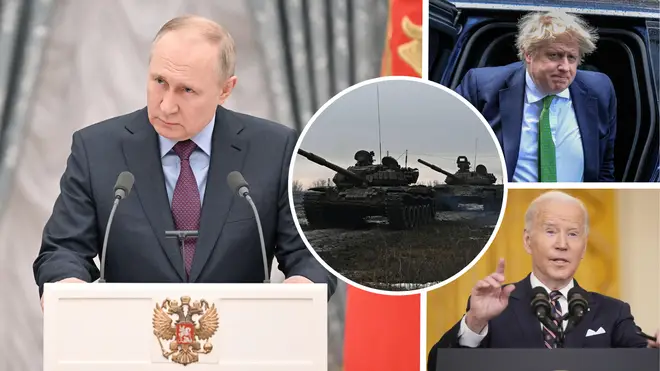 Russian president Vladimir Putin has been given permission to use force outside Russia, potentially paving the way for a broader attack on Ukraine.
Mr Putin asked the upper house of parliament for permission to use Russia's armed forces abroad on Tuesday evening.
Addressing the chamber, one of the country's deputy defence ministers said that it had been left with no choice.
The decision takes immediate effect, one of the lawmakers said as the motion was discussed.
In a press conference held on Tuesday evening UK time, US President Joe Biden announced a host of sanctions set to be imposed in retaliation, including on Russian oligarchs, Russian sovereign debt, VTB Bank and cancelling Nord Stream 2.
During his White House speech Mr Biden said Putin has no interest in "pursuing real dialogue".
"He indirectly threatened territory formerly held by Russia, including nations that today are thriving democracies and members of Nato.
"He explicitly threatened more unless his extreme demands were met," Biden said.
He also confirmed the US is moving forces to protect NATO Baltic allies as Russia increases military presence in the East.
President Biden told the press briefing: "In response to Russia's admission that it will not withdraw its forces from Belarus, I have authorised additional movements of US forces and equipment already stationed in Europe to strengthen our Baltic allies - Estonia, Latvia and Lithuania.
"Let me be clear, these are totally defensive moves on our part. We have no intention of fighting Russia.
"We want to send an unmistakable message though, that the United States together with our allies will defend every inch of Nato territory and abide by the commitments we made into Nato."
NATO Secretary General Jens Stoltenberg later said at a press conference: "I think again we have to understand that Russia has been in Donbas for many years, since 2014.
"But this has been in a covert operation, where they have denied their presence.
"What we see now is additional Russian forces moving in. This is a step change."
Read more: Banned from Britain: The three Putin cronies slapped with Boris's sanctions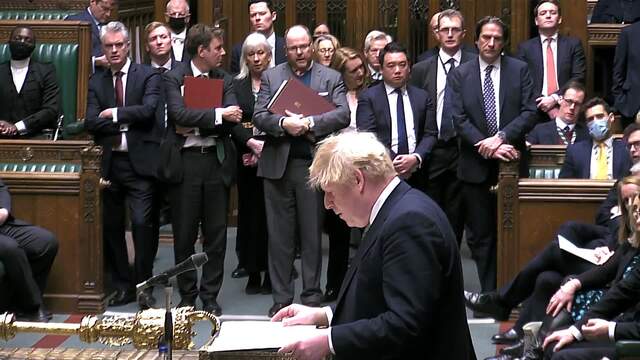 PM announces sanctions against Russian interests in UK
It comes after Boris Johnson imposed fresh sanctions on Russian banks and oligarchs after Putin ordered troops into breakaway Ukrainian regions.
Speaking to MPs in the House of Commons, the Prime Minister named five banks and three high-flying individuals would come under new economic measures in response to Russia's recognition and deployment of tanks to Donbas and Luhansk.
An invasion would then result in 44 million people in Ukraine becoming the "target" of a "full-scale war of aggression waged without a shred of justification for the absurd and even mystical reasons that Putin described last night", Mr Johnson said, referring to Mr Putin's speech on Monday night where he rambled about his view of Ukraine and Russia's history.
"In a single inflammatory speech, he denied that Ukraine had any tradition of genuine statehood, claimed that it posed a direct threat to the security of Russia and hurled numerous other false accusations and aspersions," Mr Johnson said.
The PM went on to say Russian tanks and armed personnel carriers have "since been spotted" in the rebel-held eastern parts of Ukraine and added: "The House should be in no doubt that the deployment of these forces in sovereign Ukrainian territory amounts to a renewed invasion of that country.
"And by denying Ukraine's legitimacy as a state and presenting its very existence as a mortal threat to Russia, Putin is establishing the pretext for a full-scale offensive."
Rossiya, IS Bank, General Bank, Promsvyazbank and the Black Sea Bank will be subject to UK sanctions, he told MPs.
Gennady Timchenko, who has interests in Russian gas and petrochemical businesses, Boris Rotenberg, of SMP Bank, and Igor Rotenberg, who Forbes said made his money from construction and real estate, have been sanctioned.
He went on: "I think honourable members will struggle to understand or to contemplate how in the year 2022 a national leader might calmly and deliberately plot the destruction of a peaceful neighbour.
"Yet the evidence of his own words suggest that is exactly what President Putin is doing.
"When I said on Saturday that his scheme to subvert and invade Ukraine was already in motion before our eyes, the events of the last 24 hours have sadly shown this to be true.
"We must now brace ourselves for the next possible stages of Putin's plan.
"The violent subversion of areas of eastern Ukraine by Russian operatives and their hirelings followed by a general offensive by the nearly 200,000 Russian troops gathered on the frontiers at peak readiness to attack."
Labour leader Sir Keir Starmer said Putin feared democracy.
"Yesterday was a dark day for Europe. We must all stand firm in our support for Ukraine. We support the freedom of her people and their right to determine their own future without the gun of an imperialist held to their head," he said.
"There can be no excuses for Russia's actions. There is no justification for this aggression."
Earlier, the British Government confirmed it would impose a "barrage of sanctions" on Russia after Putin ordered troops into Ukraine in what has been called a "very dark day" for Europe.
Speaking in Downing Street after a 6.30am COBRA meeting, Boris Johnson said Putin has "completely torn up international law" by his actions in Ukraine.
Read more: Brits to get Easter holiday boost as EU countries set to scrap pre-departure tests
Read more: Logan Mwangi, 5, suffered 56 'brutal' injuries before body dumped in river 'like rubbish'
Meanwhile, Germany has taken steps to halt the process of certifying the Nord Stream 2 gas pipeline from Russia, as the West started taking punitive measures against Moscow.
The link between Russia and Germany was completed last September but is not yet operating.
Chancellor Olaf Scholz told reporters in Berlin that his government was taking the measure in response to Moscow's actions in Ukraine.
The pipeline bringing natural gas from Russia to Germany has long been criticised by the United States and some European countries who argue that it increases Europe's reliance on Russian energy supplies.
Mr Scholz said the government had decided to "reassess" the certification of the pipeline in light of the latest developments.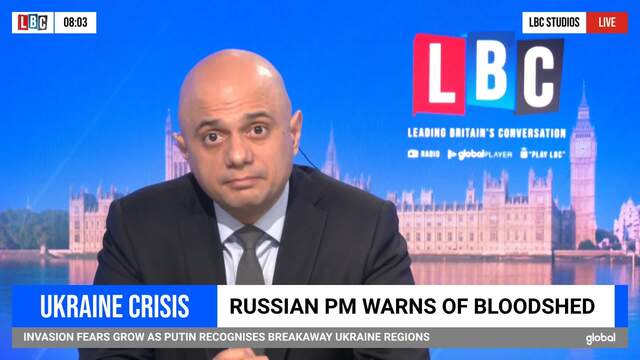 Health Secretary pledged the UK 'will take action' against Russia
European football's governing body is also reportedly considering dropping St Petersburg as the venue for the Champions League final.
UEFA is under growing pressure to move the match from Russia's second largest city.
Culture Secretary Nadine Dorries said she has "serious concerns" about the sporting events due to be held in Russia, such as the Champions League Final.
She said: "We won't allow President Putin to exploit events on the world stage to legitimise his illegal invasion of Ukraine."
I have serious concerns about the sporting events due to be held in Russia, such as the Champions League Final, and will discuss with the relevant governing bodies.

We won't allow President Putin to exploit events on the world stage to legitimise his illegal invasion of Ukraine.

— Nadine Dorries (@NadineDorries) February 22, 2022
It comes after President Putin ordered troops into two rebel-held regions of eastern Ukraine, Donetsk and Luhansk.
Putin has since recognised the two pro-Russian regions as independent states, ordering troops - described as "peacekeepers" - to enter the areas.
The Health Secretary Sajid Javid said the "invasion of Ukraine has begun" as he pledged that the UK will take action.
He told LBC's Nick Ferrari at Breakfast on Tuesday: "We should all be very concerned, we are waking up to a dark day."
He said Russia has clearly "flagrantly violated Ukraine's sovereignty and territorial integrity", pledging that the UK "will take action".
Mr Javid told Nick the sanctions being considered by Boris Johnson will target individuals closely linked to the Kremlin.
"There will be sanctions, the Prime Minister has been clear about that," he said.
"I am sure from what has already been shared by the Prime Minister that individuals that have close contacts with the Russian regime will be targeted, as will certain economic sectors."
Earlier, he told Sky News the "invasion of Ukraine has begun".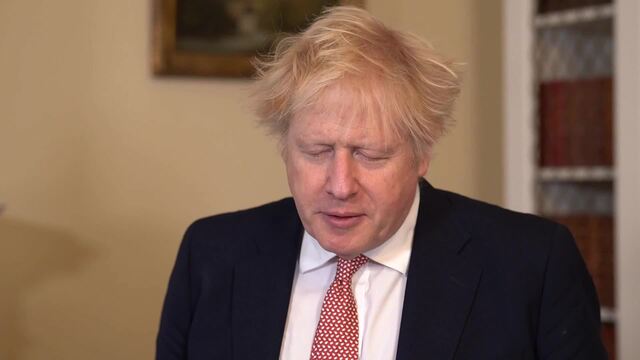 Putin has 'completely torn up international law', says Boris Johnson
On Monday, a Kremlin statement said Putin had told the French and German leaders he intended to sign a decree recognising the Donetsk and Luhansk areas as independent states.
Within hours of Putin's order, Reuters said five tanks were seen around Donetsk city, and though it was unclear if they belonged to the separatist rebels or the Russian military, sources indicated tanks had not been seen on the streets recently.
Ukraine's military reported on Tuesday that two soldiers were killed and 12 wounded by shelling in the east of the country in the last day, claiming separatists had unleashed bombardments in 84 instances across 40 frontline settlements.
Mr Johnson said he would explore sending further defensive support to Ukraine, at the request of the Ukrainian Government.
Read more: Analysis: 'Freedom Day' announcement means the government believes Covid is over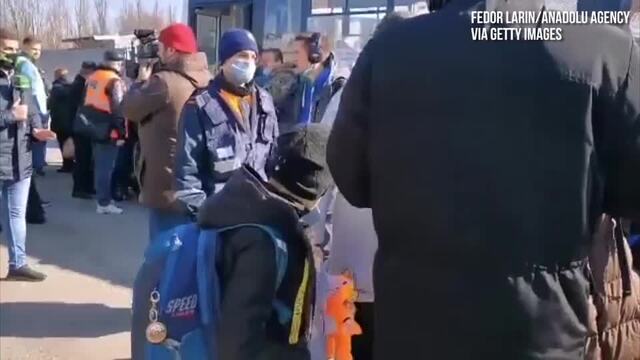 Ukrainians evacuate Donbas ahead of Russia moving troops in
The US said it would impose sanctions in response to the decree recognising the break-away states while Russia's UN representative told the West to "think twice".
In a key speech on Monday evening, Putin blamed Nato and the US, saying they have turned Ukraine into a "theatre of war".
Speaking about the crisis in Ukraine at a Joint Expeditionary Force defence ministerial meeting in Leicestershire on Tuesday, Defence Secretary Ben Wallace said: "What we saw through the night was President Putin's declaration that he is going to recognise independent states in the Donbas region, which includes territory which is actually on the other side of the line of control.
"We've seen, in open source reporting, Russian military equipment moving into that region.
"We'll have to verify that given what we know about Russian media performances and truth versus reality.
"These are worrying signs, of course - the clear fact that Russia has broken international law, and I just want to point correspondents to President Putin's speech itself."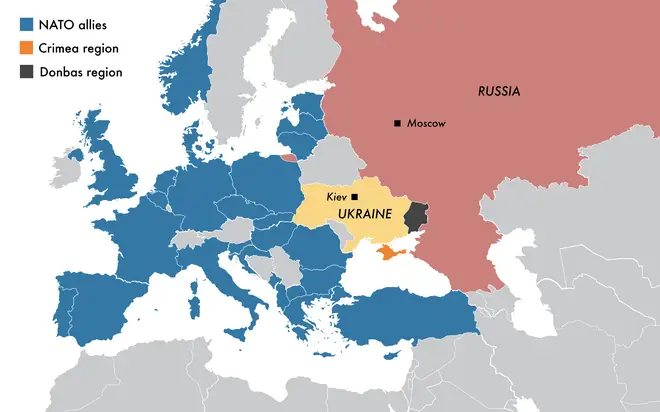 Wizz Air has said it will continue to operate flights between the UK and Ukraine despite Russia sending troops into the east of the country.
The Hungarian airline connects Luton Airport with Kiev and Lviv, running three return flights per week on both routes.
A spokeswoman said: "Wizz Air continues to closely monitor the situation in Ukraine.
"Currently, we have not made any changes to our schedule and all of our flights to/from Ukraine continue to operate as normal.
"All passengers with booked flights to and from Ukraine are advised to regularly check their mailboxes for further information about booked flights."
Ryanair and Ukraine International Airlines also operate flights between the UK and Ukraine and have not announced any changes to their schedules.
A number of airlines in other countries have suspended flights to and from Ukraine.
They include Air France, Germany's Lufthansa, Dutch carrier KLM, and Scandinavian company SAS.