Charlie Hebdo Cover Suggests Hurricane Harvey Victims Are Neo-Nazis
1 September 2017, 15:03 | Updated: 1 September 2017, 15:14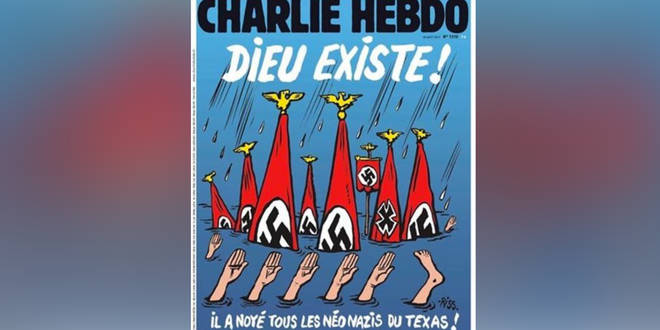 Charlie Hebdo has sparked fresh controversy after its latest front cover implied those killed by Hurricane Harvey in Texas were neo-Nazis.
The French satirical newspaper has taken aim at the victims of the catastrophic natural disaster, which hit the US state last week, killing at least 35 people and displacing thousands of others.
The art on the Charlie Hebdo cover shows swastika flags and hands raised in what looks like Nazi salutes poking out above floodwaters.
The text reads: "God exists! He drowned all the neo-Nazis of Texas."
It appears to be a direct swipe to Texans' support of Donald Trump, who won 52.6 per cent of the state's vote last year.
Charlie Hebdo often pokes fun at controversial subjects, including religion and political figures.
In 2015, two gunmen opened fire at the publication's offices in Paris, killing 12 people.