Network Rail Block Amnesty Poster As 'Too Political'
15 November 2016, 16:21 | Updated: 15 November 2016, 16:28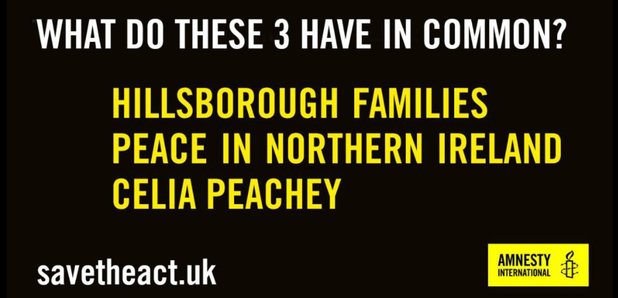 Network Rail says these Amnesty International ads breach rules on political advertising - campaigners say they're crazy to block the poster.
The campaign is aimed at highlighting what the Human Rights Act has meant in recent British history. It cites peace in Northern Ireland, justice for the Hillsborough families and the case of Celia Peachey, whose mother was murdered.
But despite running on the Tube earlier this year, Network Rail has decided now that the ad breaches their rules on political ads on trains.
The government says it will repeal the HRA and replace it with a bill of rights.
Amnesty say they "simply don't accept that basic human rights are ever a political issue."
Iain Dale is discussing the issue on his LBC show this evening.