Tom Hanks Tells LBC Donald Trump Is A "Gas-Bag"
12 October 2016, 16:30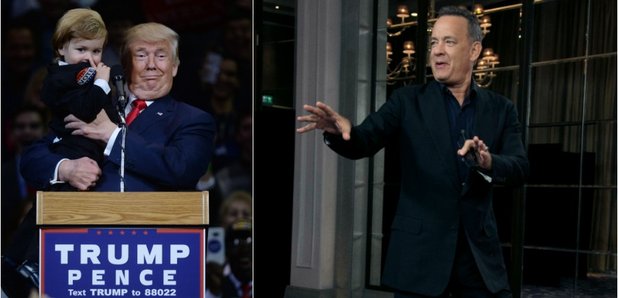 Days after Robert DeNiro said he'd like to punch Donald Trump in the face, Tom Hanks has joined in the chorus of criticism for the Republican candidate...but in a slightly less aggressive way.
Hanks told LBC that he was making "no secret" of his support for Hillary Clinton. Why? Because Trump is a "self-serving gas bag."
He told us: "Look, we live in a very, very confusing and complex world in which the black and whites are either extremely vivid, but the solutions however are going to require all sorts of different shades and solutions.
"You know, look, I'm voting for Hillary Clinton. I'm not making any secret about that because I have absolutely no faith in a self-serving gas bag like the other guy who's running for President.
"I view all of our problems as if we have a very, very serious heart condition that needs the most precise, long-term care to look after and I'm not going to turn to somebody who says. 'You know, you want me to be a cardiac surgeon? I can be a cardiac surgeon if I want to.' No, I'm going to go to somebody who is the most experienced, the most knowledgeable and the most wise when it comes down to looking after problems that are affecting everybody on the planet earth right now.
"There's no such thing as a simple solution. We need someone who looks twenty years down the line, as opposed to just until November 28th."