Free Tommy Robinson Protest: Police Release CCTV After Violence
29 October 2018, 08:23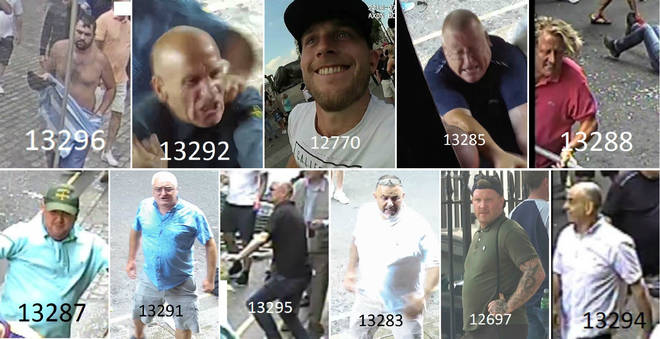 The Met Police have released pictures of 11 people after a Free Tommy Robinson protest turned violent.
The CCTV images are from the afternoon of the protests which took place on Saturday 14th July when President Trump visited the UK.
The procession was a joint protest for Welcome Trump and Free Tommy Robinson.
Detective Sergeant Matt Simpson said: "During these demonstrations violent disorder broke out in Storey's Gate in Westminster.
"At about 4pm and police officers who were present to keep the public safe and facilitate peaceful protest were subject to assaults and racial harassment. This behaviour is completely unacceptable and we are appealing for the public's help to identify the people in these images.
"If you recognise any of them or have information on their identity, please contact the Met's Public Order Investigation Team, quoting the number on the image, on 020 8246 0076 or call Crimestoppers anonymously on 0800 500 111."