Brexit: What has changed in Boris Johnson's new deal?
17 October 2019, 18:01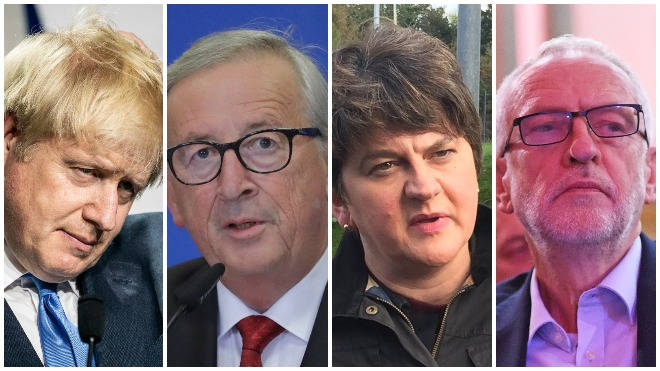 What are the differences between Theresa May and Boris Johnson's Brexit deals?
The former Prime Minister's Withdrawal Agreement has remained relatively untouched by her successor, however text around the small but critical issue of the Northern Irish border has been changed.
Mrs May's deal promised frictionless trade between Northern Ireland and Ireland through a 'backstop' - an indefinite arrangement which would have forced Northern Ireland's trading regulations to mirror the European Union.
Mr Johnson, however, has scrapped the backstop and replaced it with what he claims to be a more "democratic" option - a legal customs border between Northern Ireland and Ireland, subject to re-approval by the Northern Irish Assembly every four years.
How will the customs border work?
If the proposed changes were to come into effect, goods being sent to Ireland would be taxed between Great Britain and Northern Ireland.
The goods would then be allowed to continue to Ireland, with minimal checks, at entry points between Northern Ireland and the Republic.
If products are remaining in Northern Ireland, importers will be able to claim a tax refund from exporters to ensure that Britain and Northern Ireland are treated equally.
How will MPs vote?
The government is framing the deal as a 'new deal or no deal' Brexit, following the announcement by EU Commission President Jean-Claude Junker that an Article 50 extension would not be granted.
The Democratic Unionist Party (DUP) is critical to Boris Johnson getting the deal through a House of Commons vote on Saturday, but the Northern Irish party voiced their opposition to it this morning.
Opposition parties, particularly Labour and the SNP, are setting their differences on Brexit aside to stop the deal being enacted.
From what we know, Johnson's negotiated a worse deal than Theresa May. This sell-out deal risks our rights, protections and NHS. It won't bring the country together and should be rejected. pic.twitter.com/ZMKSNt2Nc9

— Jeremy Corbyn (@jeremycorbyn) October 17, 2019
However, Labour Leader Jeremy Corbyn may still face opposition from a group of around 20 Labour MPs who are campaigning for a Brexit deal for their Leave-voting constituencies - a number that may get Boris Johnson's deal over the line.
The Liberal Democrats maintain their view that any new deal would be worse than the UK's current relationship with the EU, and want to revoke Article 50 to reverse the decision made in the 2016 EU Referendum.
What happens now?
Mr Johnson has said he will put his new deal to a vote in the House of Commons on Saturday, which is set to be a decisive showdown between pro-Remain and pro-Brexit MPs - and everything in between.
Number crunchers will be working hard to determine which lobby the wavering MPs will walk into, with a keen eye on those potential Labour rebels which Boris Johnson will be reliant on.