Moment Green MEP shames Brexit Party rival who questioned her economics credentials
26 November 2019, 11:33
This is the moment Green Party MEP Molly Scott Cato received a spontaneous round of applause after hitting back at a Brexit party MEP who accused her of knowing nothing about economics.
MEP Ms Cato hit back at the Brexit Party's Robert Rowland after he accused her of lacking a degree in economics and she therefore wasn't qualified to offer predictions on the post-Brexit landscape.
Brexit Party MEP Robert Rowland raised a question in the European Council chamber after the Green MEP said that the UK will suffer economically after Brexit.
Speaking in the European Parliament, Mr Rowland said: "I'd just like to ask Ms Scott what empirical proof she has that the end of the transition period when we will be leaving the EU will result in a cliff edge, when as far as I'm aware she does not have any degree in economics, or maybe she has some business experience that will give some empirical proof that that will be the case."
Ms Scott responded to his blue card request by answering, "Obviously you haven't been paying very much attention to my CV because I was, and I remain a professor of economics."
Her comments were met with a round of applause in the chamber.
"I also have expertise in trade policy and have been studying the trade negotiations from the beginning," she added.
The chair then said: "I think Mr Rowland stands corrected" as the room applauded Ms Scott.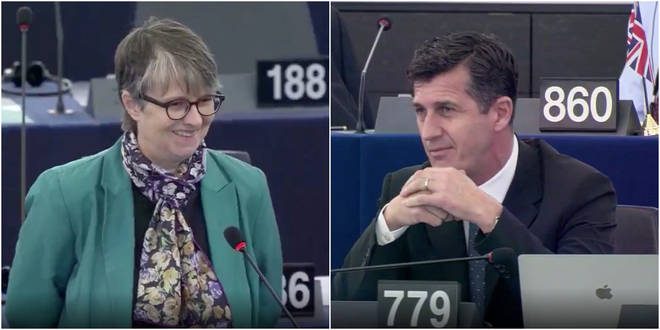 Sam Ryan shared the video of the exchange on Twitter with the caption:" I have never seen such a flop of a blue card in the EP. Poor @RowlandBrexitSE, that one hurt."
Social media users were quick to congratulate the Green MEP, with one writing: " This is priceless - a Brexit MEP having his nose rubbed in his own ignorance by @MollyMEP."
Another wrote: "Someone took a well deserved public spanking. Well said Molly."
Green MEP Molly Scott replied to the comments saying: "He [Robert Rowland] is one of the more reasonable Brexit MEPs and did have the decency to look thoroughly embarrassed.
"I just bumped into him and he apologised and offered to buy me a coffee."
Brexit MEP Robert Rowland also tweeted about the incident: "I was suitably chastened and saw Molly afterwards to apologise for not checking her CV. She was gracious in acknowledging my mistake - in the chamber and again outside.
"I do 100% disagree with her economics however! Watch my speech at the end of the debate."
Green MEP for Stroud, Molly Scott studied Politics, Philosophy and Economics at Oxford University and took a PhD in Economics from the University of Wales, Aberystwyth focusing on employment in the South Wales Valleys.
She is a Professor of Economics at Roehampton University and has written several books including Green Economics (2009), Environment and Economy (2011) and The Bioregional Economy (2012) as well as numerous academic papers.